Houston Rockets: CBA contract clause costs Zhou Qi rookie season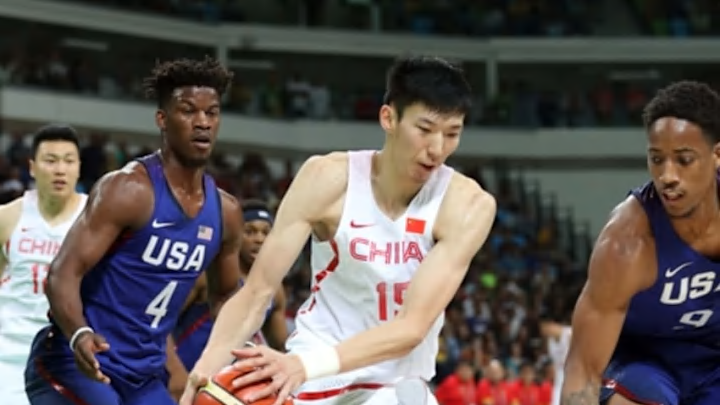 Zhou Qi will have to postpone his rookie campaign with the Houston Rockets due to a CBA contract clause.
Selected 43rd in 2016 NBA Draft Zhou Qi was ready to join his Houston Rockets, but he'll have to postpone his rookie season due to a CBA contract clause.
This past weekend, the Houston Rockets and Chinese star Zhou Qi had their first face-to-face meeting of the summer. Qi was drafted with the 43rd overall pick during the 2016 draft and seemed poised for his NBA debut.
However, according to Calvin Watkins of ESPN, a clause in his contract has prohibited Qi from joining the Rockets this season.
"Watkins "The Houston Rockets had a face-to-face meeting with 2016 second-round pick Zhou Qi for the first time in the United States on Sunday. The Rockets don't expect him to play for them this upcoming season because he's contractually obligated to the Flying Tigers through next season. There isn't an out clause in his contract to play in the NBA this season, according to a source." – ."
While this may look like a disappointment at the moment, it could be a blessing in disguise for Qi. Not playing in the NBA this season would give him another year to develop his game.
The 7-foot-3 big man spent the last two years playing for the Xinjiang Flying Tigers of the CBA. Over a two-year span, Qi averaged 14.9 points and 8.3 rebounds per game. Although a solid scorer, it was his presence on the defensive end that made him an NBA prospect. In his first two seasons, Qi led the CBA in blocks averaging 3.3 per game.
Despite missing an entire year, Qi has some experience playing against some premiere talents of the NBA. As a member of the Chinese National Team, Qi stood his ground against Team USA during the Summer Olympics.
In China's 107-57 lost to Team USA, Qi showcased his ability to score at will. As well as showcasing his excellent ball handling skills. Qi's ability to handle the ball is beyond ordinary for a 7-foot center. At times his handles made DeAndre Jordan looked a bit foolish when guarding him.
Next: Why Tracy McGrady Deserves Hall of Fame
Next: Houston Rockets Greatest Hall of Fame Players
If he continues to develop at the rate he is going, Qi's talents could take the league by storm. Similar to the way Yao Ming did 14 years ago. Unfortunately, the Rockets and the NBA may have to wait for one more year.