A Carmelo Anthony Rumor-Filled Day for the Houston Rockets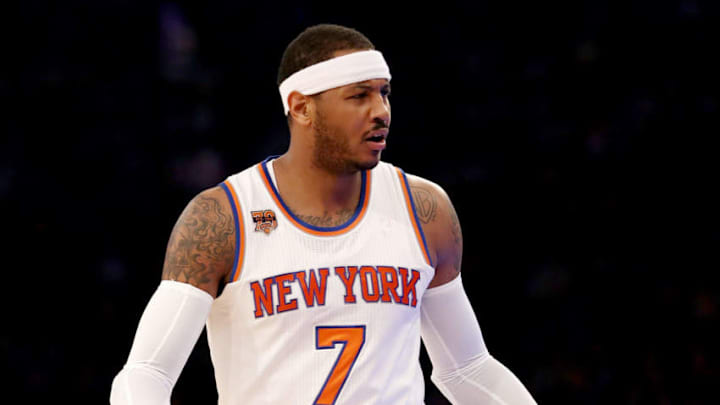 NEW YORK, NY - MARCH 27: Carmelo Anthony
Most of the rumors of today involved a certain Knicks forward that the Rockets have been eyeing.
Carmelo Anthony has been in all of the rumors today for the Rockets. There has been very little official and verified sources saying that any of these rumors are true. It is still interesting to see the reactions of people and the talks that are being made about Anthony's potential landing spot with the Rockets.
The Day of Rumors
To start out the day, Melo seemed to be spotted at a Houston airport. However, some people said that he was here to train with Hakeem during the summer like several players do. Still, it is interesting that he is in Houston at a time where the Rockets are looking to acquire him.
The next rumor came from an unverified Knicks "source." He tweeted several details about a potential trade, with this one being the most popular.
Source: Blazers, Rockets, #Knicks have engaged in early talks regarding a 3 team deal that could potentially send C. Anthony to Houston.
— Sports News (@JSports_ent) July 6, 2017
While the source itself seems fishy, he has been correct on several things in the past and has a decent following. However, he could easily be wrong and making things up. Nobody knows, and no actual source has picked up the story. So for now, I would advise against believing this account.
After all of his tweets about the situation, some actually verified news about the Rockets came out. Houston is looking to move some of their non-guaranteed contracts for assets.
The Houston Rockets are working to flip their $10M in non-guaranteed contracts for players or assets, league sources tell ESPN.
— Adrian Wojnarowski (@wojespn) July 7, 2017
Presumably, these trades would give the Rockets assets to include in a trade for Carmelo Anthony. That seems to be the end goal for Houston this offseason, and it would certainly be interesting if they accomplished it.
What do you think will happen with the whole Carmelo Anthony situation? Leave your opinion in the comments below! Follow us on Twitter and like us on Facebook, too, to stay up to date with the craziness that is free agency!