Rockets News
Troy Williams Deserves a Roster Spot on the Houston Rockets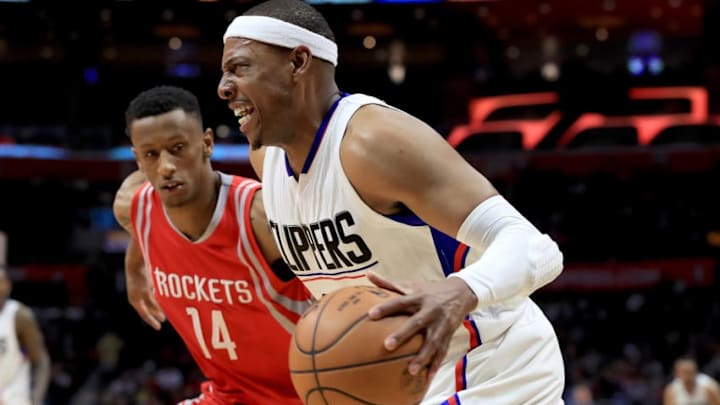 LOS ANGELES, CA - APRIL 10: Paul Pierce
One young player deserves a spot on the Houston Rockets next season.
Troy Williams has been given the chance to shine in the Summer League this year. Through two games, he has done just that. He is averaging 25 points per game on 51.7% shooting in his two games in Las Vegas.
Williams has shown that he is deserving of a roster spot on the actual Rockets team and should be signed. Let's look at some reasons he needs to be apart of the team:
Improved Shooting
The main complaint about Troy Williams last season was his streaky shooting. One game he would be on fire from three, but most others he just had bad form and shooting. While his form is still similar, he is knocking down threes in these two games so far.
Williams went 4/7 from 3 in the first game and 3/8 in the second one. His shooting was a problem for Troy even in the D-League last year, so it is nice to see that he has been working hard to improve on that front.
Pure Athleticism
Troy Williams has always had incredible athleticism, even with the team last season. That has continued into the Summer League, as he had this steal and monster jam last night:
Nice steal ➡️ big dunk @troywilliams_ with 11pts at half.
Rockets trail 40-44. pic.twitter.com/HA1LuVrHTd
— Houston Rockets (@HoustonRockets) July 9, 2017
This athleticism bleeds into his defensive game, too. As seen in the video above, he is starting to improve at picking the pocket of offensive players. He also is a great shot blocker for a guard. Check out this block on Steph Curry last season:
It gets better every time you watch it.
Pure Potential
Troy Williams has the potential to be a great athletic player in the league. If his shooting continues to improve, he could find a rotation spot with the Rockets, maybe. He is still just 22 years old and will get even better. By the way, who could forget Troy's incredible putback dunk last season?
Wow. If Williams can put it all together, he could be a great piece for the Rockets.
Be sure to follow us on Twitter and like us on Facebook to stay up to date with more Rockets information!
*All stats via NBA.com*