Rockets News
Houston Rockets vs. Denver Nuggets Summer League Recap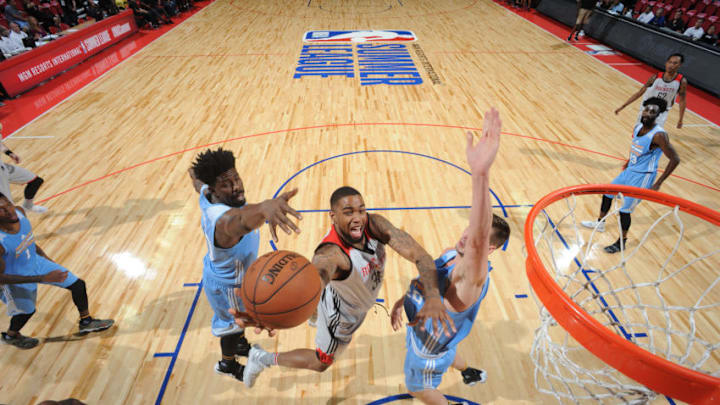 LAS VEGAS, NV - JULY 12: Shawn Long
Unfortunately, the Rockets have fallen to the Nuggets in the Summer League tournament.
After a long game, with the Rockets being behind for most of it, the squad fell to the Nuggets 87-81. Houston will play in a consolation game later in the week. The Nuggets, on the other hand, will go on to play the Brooklyn Nets in the second round of the Summer League tournament.
The Negatives
Since the Rockets lost, let's start with the negatives. Zhou Qi most certainly did not have his best game ever. He finished with 4 points and 3 rebounds and looked lost out there at times.
Chinanu Onuaku struggled on offense as well and had a poor last possession of the game.
For the most part, the offense of the Rockets was bad, as the team shot only 36.6% from the field.
The Positives
Troy Williams continued his tear of 20-point games. He finished with 20 points, 3 rebounds, 2 assists, and 4 steals and is starting to look like someone who should not be playing in the Summer League.
Chris Johnson exploded for 20 points and 7 rebounds on 8/13 shooting. He has had an underrated and very good Summer League.
Isaiah Taylor also continued his impressive summer with another decent game. He filled up the stat sheet with 12 points, 5 rebounds, 7 assists, and 5 steals, overcoming a poor shooting performance with other aspects of the game.
Let's look at a couple of highlights:
Taylor ➡️ Johnson #RocketsSummer pic.twitter.com/SoqjdmUNOC
— Houston Rockets (@HoustonRockets) July 12, 2017
Isaiah Taylor has been an incredible passer during the Summer League and that continued today.
Nice move to the basket from the rook @Ipjh55 pic.twitter.com/UV0em5mu45
— Houston Rockets (@HoustonRockets) July 12, 2017
Isaiah Hartenstein got to the basket on this play and showed off his versatility. He can be a great player for the Rockets in the future.
The Rockets will finish their Summer League experience on Friday.
Follow us on Twitter and like us on Facebook for more information on the Rockets!
Next: Rockets and Knicks Working on a Four-Team Trade for Melo