Rockets News
Rumor: Knicks may trade Carmelo Anthony to Rockets this week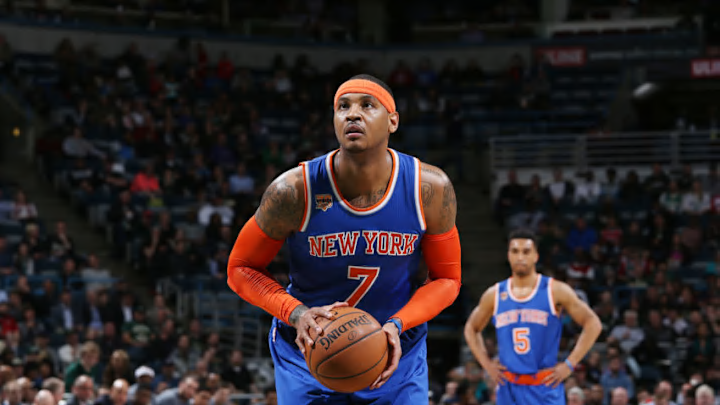 Milwaukee, WI - MARCH 8: Carmelo Anthony
Add this to the long list of Carmelo Anthony trade rumors.
The Carmelo Anthony whirlwind has dragged on so long that it's hard to believe any report at this point.
At first, the Knicks were fielding offers from the Rockets and Cavaliers. The only teams that Carmelo would waive his no-trade clause for.
Then, the Rockets removed Anthony from the trade market. New York's font office pondered about bringing him back to New York for another season.
Carmelo informed the Knicks that he doesn't want to play for New York, and they appear to be shopping him again.
According to Tarek Fattal of the Los Angeles Daily News, a deal between the Knicks and Rockets involving the 10-time All-Star is likely to happen this week.
Very solid source close to HOU tells me that Carmelo Anthony is likely to be a Rocket by early this coming week. Stay tuned..
— Tarek Fattal (@Tarek_Fattal) July 23, 2017
After Kyrie Irving requested a trade away from the Cavaliers, there were rumblings of a potential Kyrie-Carmelo swap between Cleveland and New York. However, New York Daily News' Frank Isola said that Anthony is "focused" on completing a deal with Houston.
Related Story: Carmelo Anthony still focused on signing with the Rockets
Is a Carmelo deal actually imminent?
Tarek Fattal didn't note any additional teams involved in a Rockets-Knicks deal. Houston has a lack of young assets to send New York, that was the bottleneck in previous negotiations. The Knicks want to rebuild around budding star Kristaps Porzingis. They're looking for players who are 25 years and younger with untapped potential. Houston's most tradable assets – Ryan Anderson, Trevor Ariza and Eric Gordon – don't fit the mold.
Superstars like DeMarcus Cousins, Jimmy Butler and Paul George were dealt in lopsided trades where the receiving team clearly made out.
Next: Why Clint Capela will have a breakout season
The Knicks are very unlikely to receive equal trade value for Carmelo Anthony, perhaps they've come to that realization. Or maybe there is an anonymous third team that is willing to send young assets to New York in return for a few savvy veterans. Or just maybe, this is mere speculation and a deal for Melo is still far off.
Who's knows? We will have to wait and see.