Rockets News
NBA ranks the Houston Rockets top 25 plays of last season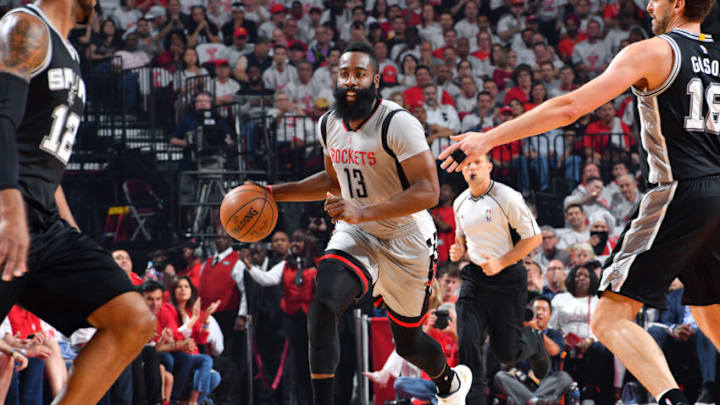 Photo by Jesse D. Garrabrant/NBAE via Getty Images
The NBA ranked the top 25 plays of the Houston Rockets from last season.
On Wednesday morning, the NBA's official Youtube page released a video ranking the top 25 plays of the Houston Rockets 2016-17 season.
Houston couldn't have asked for a better year. The Rockets won 55 games and grabbed the third seed in a loaded Western Conference. Mike D'Antoni's offense ranked first in three-pointers made, second in points and third in assists per game.
Houston's 1,181 threes were the most made ever in a single season, breaking Golden State's record from the 2015-16 season. James Harden, Eric Gordon and Ryan Anderson finished top-10 in three-point field goals made.
Which highlights made the list?
With Houston's high-octane offense, picking just 25 plays was likely quite a chore. Montrezl Harrell, Sam Dekker, Trevor Ariza, Nene Hilario, Clint Capela and of course James Harden frequented the list.
The first play that caught my eyes on the list was a reverse dunk from Sam Dekker on the Phoenix Suns. The Rockets were leading by 25 points heading into the fourth quarter, and Dekker decided to get a bit fancy. Harden found Dekker with a bounce pass along the baseline and Sam used the rim for protection against the shot block and finished with a reverse jam.
The next play was a dunk by Nene Hilario. Despite his advanced age, Nene can still throw down some thunderous dunks. After catching a pass from Sam Dekker, Nene ball-faked not one, but two defenders. Nene's pump fakes sent Quincy Acy and Randy Foye flying before he threw down a "man's jam."
My last favorite play came on a put back dunk from Troy Williams. James Harden missed a pull-up jump shot to close the third quarter against Denver, but Williams cleaned the glass. He jumped over the back of Mason Plumlee and finished with authority, sending the fans into a frenzy.
Next: Carmelo Anthony still prefers Rockets over Cavaliers
Be sure to check out the full video here: https://www.youtube.com/watch?v=WzcHEcwNyvw