Rockets News
Houston Rockets: James Harden is the NBA Live 18 Cover Athlete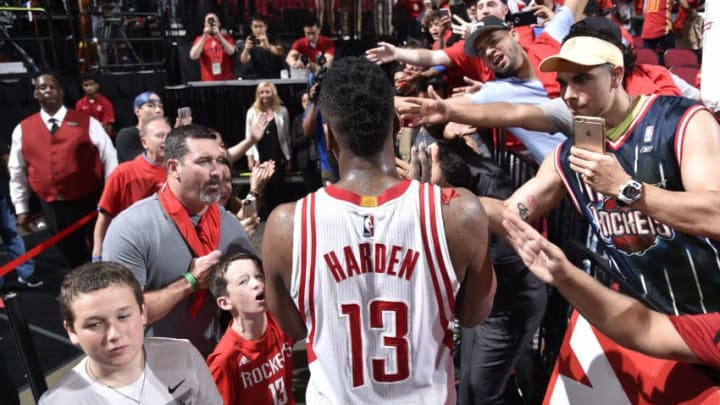 HOUSTON, TX - APRIL 25: James Harden
The Beard is taking his MVP-like season to the sticks.
James Harden had a season to remember last year. He finished with averages of 29.1 points, 8.1 rebounds, and 11.2 assists per game on his way to second in the MVP voting.
After his fantastic year, he gets the honor of being the NBA Live 18 Cover Athlete. While it seemed for awhile that Russell Westbrook would get the cover, the Beard swooped in and will be lining the shelves come sometime in September.
This honor makes it the second time that James Harden has graced the cover of a basketball video game. In NBA 2K16, he was one of the cover athletes due to nearly winning MVP.
Without further ado, let's look at the new cover!
https://twitter.com/HoustonRockets/status/895676131201830912
Jersey Preview
With the cover of the game being announced, fans of the Rockets have the opportunity to see some sneak peeks at the new Nike jerseys. Some gameplay of the demo by Steve Noah shows them off in the game if you who want to see it slightly spoiled.
More NBA Live 18 footage. This looks dope. (Via @USDA_BK) pic.twitter.com/1MfZtLQzMV
— Steve Noah (@Steve_OS) August 10, 2017
If you want to see more from NBA Live 18, then check out his full thread he posted on Twitter!
As for the white jerseys, Chris Paul certainly seems to have received his!
Chris Paul leaks some new threads ??
(Via @CP3/IG) pic.twitter.com/xtdLQ5EC4t
— NBA on TNT (@NBAonTNT) August 10, 2017
In my opinion, getting rid of the stripes from the Adidas jerseys is a huge upgrade for the Rockets. For comparison (if you need it), the old jerseys are in the picture to the right. With the sleek design, the new jerseys should hold up for years to come. The next step is officially seeing the new jerseys. Hopefully, we will see the black alternate jerseys in Nike threads as well.
If you want to stay up to date with the latest Rockets news, then be sure to follow us on Twitter and like us on Facebook!