Rockets News
Houston Rockets sign guard George de Paula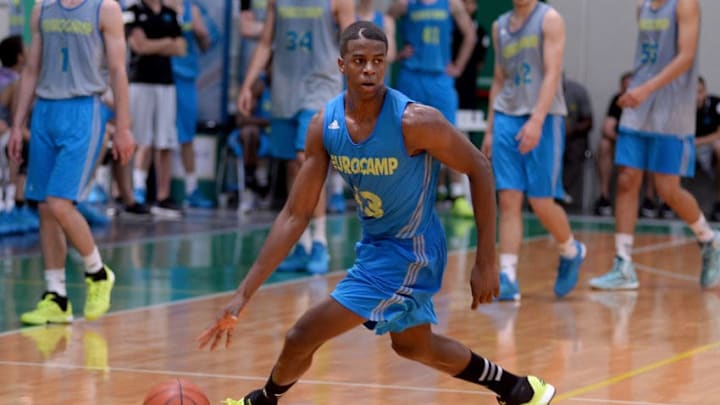 TREVISO, ITALY - JUNE 07: George De Paula in action during the adidas Eurocamp at La Ghirada sports center on June 7, 2015 in Treviso, Italy. (Photo by Roberto Serra/Iguana Press/Getty Images)
The Rockets have made another addition to their Training Camp roster.
It is officially day 2 of Training Camp, and the Rockets are making some moves, including one involving George de Paula. First off though, the team has cut forward/center Shawn Long. His deal was about to become guaranteed and every dollar counts when pursuing better players and assets. Best of luck to you, Shawn!
Also, the Rockets have signed George de Paula to take the 20th spot on the roster. This deal is a Training Camp one and according to Jonathan Feigen of the Houston Chronicle, he may see G-League time after this stint.
George de Paula
De Paula saw some playing time during the Summer League for the Rockets. He was signed to a deal to play for the team then and impressed the Rockets enough for them to invite him to Training Camp.
If you would like to see a more detailed article about de Paula, be sure to check out ours from June down below.
Related Story: Rockets come to terms with George de Paula
It happened to be written at a time when the Rockets were pursuing Paul George, so that was interesting/funny timing.
Training Camp recap so far
Training Camp has been successful so far. We have seen some great clips from scrimmages, including these:
https://twitter.com/HoustonRockets/status/912755226674941954
Zhou Qi with the rejection of Chris Paul. #Rockets pic.twitter.com/hHYHzqgq7J
— Ben DuBose (@BenDuBose) September 26, 2017
Zhou Qi has especially impressed according to Mike D'Antoni. He certainly had some nice words to say about the Chinese standout:
Mike D'Antoni on Zhou Qi: "He's long…He's got a real solid chance." pic.twitter.com/UWmgUsl8xg
— Mark Berman (@MarkBermanFox26) September 26, 2017
From today, here's Chris Paul draining some shots from deep:
https://twitter.com/HoustonRockets/status/913084378619793408
He will fit right in, that's for sure.
Be sure to stay tuned to Space City Scoop as we hear more and more quotes from Training Camp. We are just a week away from the first preseason game, people!
Follow us on Twitter and like us on Facebook for more!