Rockets News
Houston Rockets vs. Shanghai Sharks recap: One ball, no problem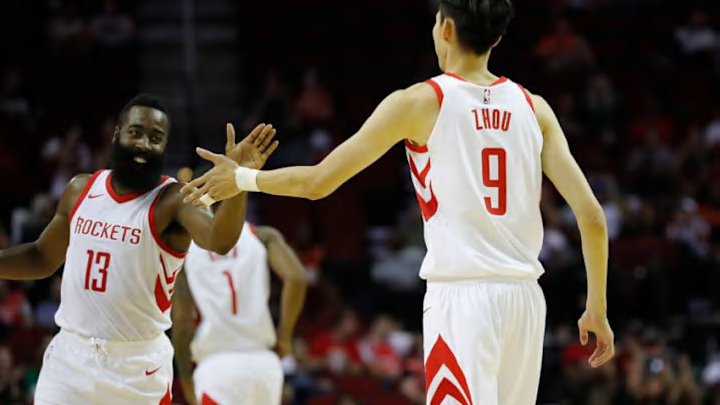 HOUSTON, TX - OCTOBER 05: James Harden
The Rockets put on a dominating performance against the Shanghai Sharks of the Chinese Basketball Association.
The Houston Rockets are a very good basketball team, to say the least. The ending of this one against the Sharks was pretty expected. By the end of it all, the Rockets walked out of Toyota Center with a 144-82 victory.
The Rockets were on fire from 3 yet again, this time finishing with 22 makes.
Let's take a look at the stats:
Player Statistics
James Harden: 9 points, 10 assists
Chris Paul: 11 points, 12 assists
Trevor Ariza: 18 points, 10 rebounds
Clint Capela: 16 points, 11 rebounds
The dynamic duo of Paul and Harden both managed to get 10 assists each. So much for the "there's only one ball" argument!
These stats were accrued in just over a half of basketball. In the third quarter, most of the starters were done for the night.
Zhou Qi impressed as well, finishing with 8 points in 11 minutes of play. His length and skill will be very useful for the Rockets in the future.
Josh Akognon had himself a game for the Sharks. He finished with 27 points along with 6 rebounds and 7 assists.
Some Highlights
For the most part, this game was a somewhat-boring blowout. Highlights are not super accessible with the game not appearing on TV. Let's look at one of the fun ones that is available:
Fairly early on, James Harden got fancy for a connection to Nene.
James Harden gets fancy in #NBAPreseason! pic.twitter.com/szXpa7lmGL
— NBA (@NBA) October 6, 2017
We will see plenty of that this upcoming season.
Eric Gordon was straight fire again, finishing with 17 points on 5/8 shooting from deep.
Eric Gordon: pic.twitter.com/rLMBOFFNr9
— Space City Scoop (@SpaceCity_Scoop) October 6, 2017
Overall, it was a great team win for the Rockets. They were able to pass the ball with ease and rack up a ton of assists. With both Harden and Paul racking up over 10 assists in just over a half of play, it looks like they are getting more and more comfortable out there on the court.
What's Next
The Rockets will play next Monday, October 9, against the New York Knicks. This game previously was going to be super awkward with Melo, but since he is now in OKC it is only slightly awkward.
Be sure to follow us on Twitter and like us on Facebook for more! We will preview and recap every Rockets game this season!