Rockets News
Houston Rockets vs. New York Knicks preseason preview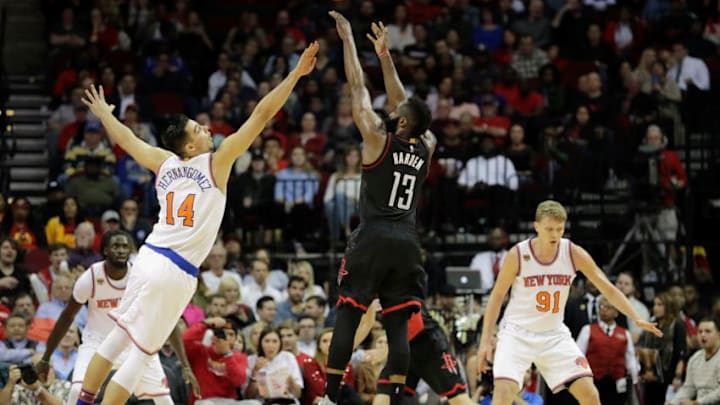 HOUSTON, TX - DECEMBER 31: James Harden
The Rockets will play their third preseason game of the year tonight, this time against the New York Knicks.
The Houston Rockets will be at Madison Square Garden tonight as they face the team that almost traded them Carmelo Anthony. The New York Knicks come into tonight having lost to Brooklyn just last night.
The Rockets, on the other hand, haven't played since last Thursday when they beat the Shanghai Sharks handily.
Let's take a look at the injury report for tonight:
Injury Report
Tarik Black will miss this game for the Rockets as well as the Wednesday game in Memphis. Per Jonathan Feigen, he is dealing with a sore knee.
Ryan Anderson returns to the Rockets after missing one game with a bruised hip.
The Knicks will be without their rookie point guard Frank Ntikilina and maybe Kristaps Porzingis according to Feigen. As he noted, this game will be the third straight the Rockets play where the opposing team does not have their point guard (Westbrook, Fredette).
Projected Starting 5
Rockets
Chris Paul/James Harden/Trevor Ariza/Ryan Anderson/Clint Capela
Knicks
Ron Baker/Tim Hardaway Jr./Doug McDermott/Kyle O'Quinn/Willy Hernangomez
Analysis
Same old, same old, for the Rockets. They have the better starting 5, and it isn't even close.
It will likely be O'Quinn or Michael Beasley starting at power forward tonight for New York with Porzingis possibly out. Maybe B-Easy will want to have some revenge on his former team.
McDermott will find himself in a huge role in New York this season after being a deep bench player with Oklahoma City last year. Will he step up his game and deliver?
Score Prediction
This one shouldn't be very close. Still, it is tough to predict a score whenever you have the G-League team playing the fourth quarter. We'll say the score will be something like 120-105, just to be safe.
How to Watch
The game tonight will be on NBA TV. If you are in the Houston area, though, it may be blacked out. In that case, you can watch the game on Rockets.com or on their Facebook page! Enjoy the game!