Rockets News
Houston Rockets: Clint Capela shines in win vs. Kings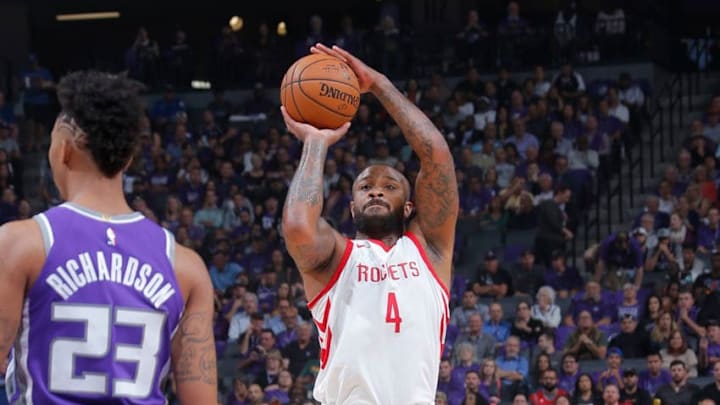 SACRAMENTO, CA - OCTOBER 18: PJ Tucker
It wasn't pretty, but the Rockets escaped Sacramento with a 105-100 victory.
The Houston Rockets (2-0) looked a little tired in the second half of a back-to-back. They still persisted and ended up victorious vs. the young and talented Sacramento Kings (0-1).
Clint Capela had a fantastic game for the Rockets. He looks ready to take on a bigger role this season.
Let's look at some stats:
Key Statistics
James Harden: 27 points, 3 rebounds, 9 assists
Clint Capela: 22 points, 17 rebounds, 10/12 shooting from the floor
Eric Gordon: 25 points, 3 assists
Nene Hilario: 9 points, 4 rebounds
Recap
The Rockets and the Kings went back and forth all game long. The 3-point shooting for Houston was atrocious, 12/45 overall. Capela was really the only efficient starter from the field.
Buddy Hield of the Kings really lit up the floor in the second half. He finished with 19 points and hit some ridiculous shots.
By the end of the game, it looked like both teams were begging the other to win. Early season mental errors haunted both squads.
The defense of the Rockets' bench remained strong, with P.J. Tucker and Luc Mbah a Moute contributing on that end of the floor. The two also combined to shoot 3/6 from beyond the arc.
Sacramento has a special rookie in De'Aaron Fox. He scored 14 points in his debut and was easily the fastest player on the court. He will be a great player with the Kings for years to come.
Chris Paul missed this game with a bruised knee. He hopes to go on Saturday, but don't count on it.
Overall, it was an ugly win for the Rockets. However, that is still better than a pretty loss.
Highlights
The bench forces Tucker and Luc connect for a nice pass and dunk:
Two new #Rockets are doing work tonight!
?: @HoustonRockets https://t.co/8m01J6lqRT
— Space City Scoop (@SpaceCity_Scoop) October 19, 2017
They have been very impressive in the first two games. Will they keep it up?
Nene returned triumphantly, and with a big slam:
https://twitter.com/HoustonRockets/status/920857186711908352
Finally, James Harden is unstoppable when he is on fire:
https://twitter.com/HoustonRockets/status/920862333571698688
He hit 3 straight shots from deep to put away the Kings (somewhat) in the 4th quarter.
Our thoughts also go out to the Phoenix Suns, who lost 124-76 in their home opener.
Be sure to follow us on Twitter and like us on Facebook for more!