Rockets News
James Harden has been named Western Conference player of the week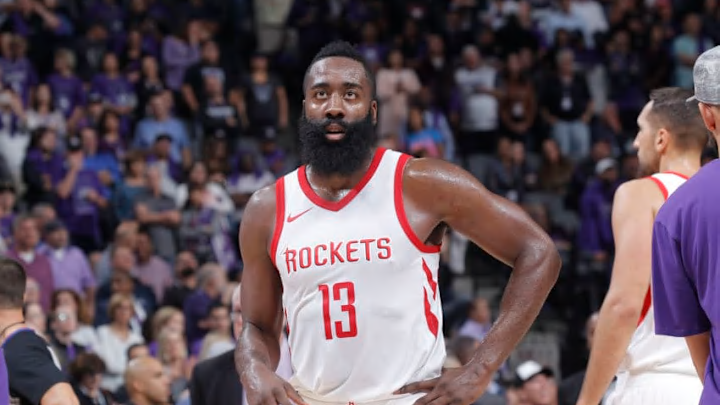 Photo by Rocky Widner/NBAE via Getty Images
James Harden has led the Houston Rockets to an undefeated record and has now been named the Western Conference player of the week.
Last season, James Harden came up just short of the NBA's MVP Award, as he was edged out by Russell Westbrook. But he's already one of the leaders to win the award this year.
The NBA announced that Harden has won the player of the week for the Western Conference for his play in the first three games. Despite a hampered Chris Paul, The Beard has led the Rockets to a 3-0 start.
Harden has averaged 27.7 points, 9.0 assists, 4.0 rebounds and 1.67 steals in 35.0 minutes of play this season. He and the Rockets stole a game against Golden State in the opener. Houston led 122-121, and Kevin Durant made a shot at the buzzer, but the replay showed that the ball was still in his hands with 0.1 seconds left. Then, Houston won a surprisingly close game in Sacramento before blowing out the Mavericks on Saturday night.
Chris Paul could be out anywhere from two weeks up to a month, and the Rockets would be wise to hold him out until he's completely healthy. Coming into the season, it was widely assumed that Harden would play less minutes or at least assume less responsibility with Paul by his side. Now that CP3 is injured, that's no longer the case according to Mike D'Antoni, via the Houston Chronicle's Jonathan Feigen.
"That went out the window. We have to win games. We'll monitor. It would be nice. We need to play in the sense he needs to sit the last five, six minutes. We need to knock people out."
For the next few weeks, Harden will have to shoulder the load for Houston. As D'Antoni said, the Rockets want to knock teams out early so that they can rest their main guys for an extra five to six minutes.
Next: Houston Rockets sign Briante Weber to a two-way deal
That extra time adds up over the course of a long season, so the strategy to come out firing on all cylinders in a shrewd move. James Harden is in line for another great season, and he'll definitely be in the MVP conversation.