Rockets News
Ex-Rockets guard Isaiah Taylor plays well vs. former team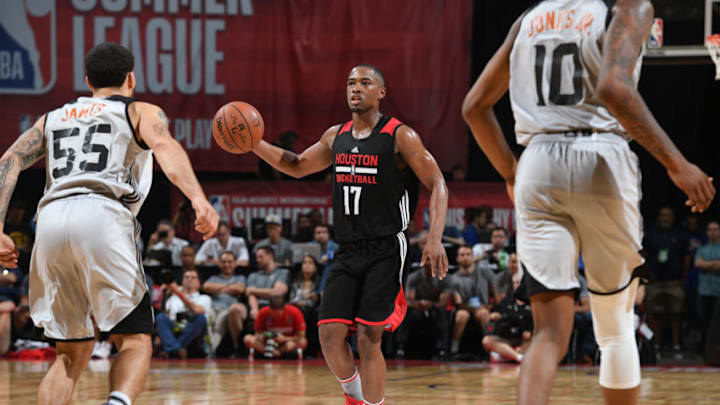 LAS VEGAS, NV - JULY 10: Isaiah Taylor
Last night, the almost back up point guard of the Rockets had a good game vs. his former team.
Coming into the season, it seemed to be a lock that Isaiah Taylor was going to be the backup point guard of the Rockets. However, he was cut in the preseason right before the games started to count.
Very quickly after he was cut, the Atlanta Hawks picked him up. He has steadily been gaining minutes and last night was his best game yet.
Against the Rockets, he finished with 12 points, 5 assists & 3 rebounds on 5/9 shooting. That begs the question, should the Rockets have kept him to play backup point guard?
Should Taylor be a Rocket?
Isaiah Taylor, after a great Summer League with the Rockets, played pretty poorly in the preseason. That's why he eventually got cut. However, backup point guard production has been below average, to say the least.
Demetrius Jackson was first charged with this responsibility, but quickly lost minutes when he struggled. The then-signed Isaiah Canaan got the call next but also struggled. Now, the backup is Bobby Brown. Brown is a good shooter but hasn't been quite as good as the Rockets would hope. Would Isaiah Taylor have been good in that role? Probably, but is not great from long range and doesn't look for his shot from there.
It certainly would be nice to have the production of Taylor off the bench but it is unknown if he would actually help in the system of the Rockets. His passing would be great but his shooting is a big question mark.
Also, Isaiah Taylor is a still a young player, not a vet where you know exactly their production/skillset (like Bobby). Taylor will be up and down throughout the year as he figures out the game at the NBA level.
Overall, it would certainly be nice to have Taylor on the team to at least try him out at backup point guard. He could at least be doing better than Jackson right now and with more upside. Best of luck to Taylor as he begins his career with the Hawks.