Rockets News
James Harden named Western Conference Player of the Week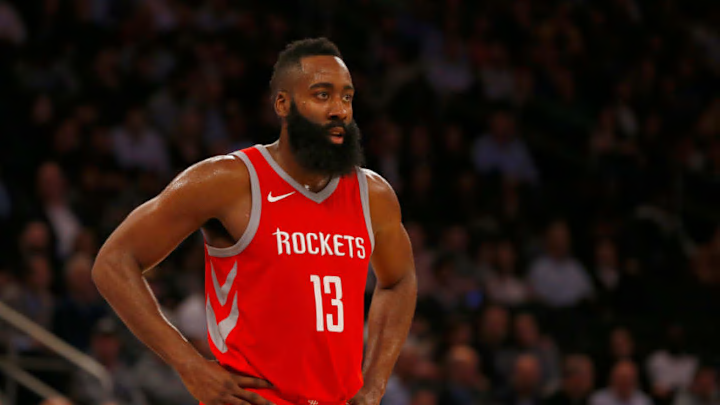 Photo by Jim McIsaac/Getty Images
James Harden of the Houston Rockets has been named the Western Conference Player of the Week after having a career game.
This month just seems to keep getting better and better for James Harden and the Houston Rockets.
The NBA has just named Harden as the Western Conference Player of the Week, marking the second time in three weeks that he has won the award.
After a pedestrian 5-3 start through the first eight games of the season, the Rockets have gotten back on track. Houston is 3-0 in November, handing out double-digit losses to New York, Atlanta and Utah.
The Houston Rockets go as James Harden goes, and that has been reflected in his numbers. The Beard is averaging a career high 29.5 points per game, to go along with 9.7 assists this season. In the past week from Oct. 30 to Nov. 5, Harden has averaged 36.3 points, 10.0 assists, 1.8 steals, 52.4 percent shooting from the field and 51.2 percent shooting from 3-pointers. His high percentage from beyond the arc is even more impressive when you consider that Harden has attempted 10.8 3's per game over the last week, averaging 5.5 makes per game.
And of course, James Harden had one of the best games of his career on Sunday night. Harden led the Rockets to a double-digit lead after the first quarter against Utah, scoring 22 of the teams 39 points. By halftime, Harden had 30 points and 7 assists as the Rockets led 67-49 heading into the break. Then, James lit up Utah for 24 points in the third, as he laid in his 54th point to beat the clock at the end of the quarter.
Related Story: Houston Rockets: James Harden has another career-defining game
Harden finished the game with 56 points and 13 assists on 19-25 shooting from the floor in just 35 minutes of play. The Rockets won 137-110, but there's a bit of underlying disappointment that D'Antoni didn't leave Harden in the game to see if he could've cracked 60 points, or maybe even 70.