Rockets News
Houston Rockets: James Harden has another career-defining game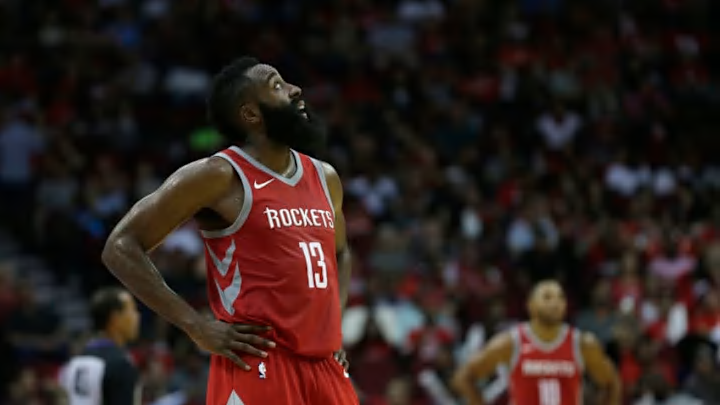 HOUSTON, TX - NOVEMBER 05: James Harden
James Harden was absolutely incredible last night against the Utah Jazz. It adds to his already impressive career.
James Harden was absolutely on fire last night. He finished with a career-high 56 points to go along with 13 assists. That shouldn't be humanly possible (it's barely possible on NBA 2K18)! The game was another career-defining one for the Beard as he continues to rack up great stat lines.
Let's take a look at a couple of Harden's best games over the past couple years:
The Game (53p, 16r, 17a)
Last year against New York, James Harden had the game of his life. As you see in the stat line above, he was absolutely ridiculous against the Knicks in a game that was way too close. He led the Rockets to victory and, in my personal opinion, had one of the (if not THE) greatest performances the NBA has ever seen.
In Philly (51p, 13r, 13a)
This game was the one where Kevin Hart was talking smack to the Beard in the first quarter. Harden responded by dropping an insane 51 points, 13 rebounds & 13 assists. That shut him up pretty quick.
Last night (56p, 13a, 19/25 shooting)
Last night's game is arguably the most special of them all (or probably second to the New York game). The pure efficiency that Harden had last night was absolutely insane. He made over 75% of his shots, including 7/8 from 3-point range. The craziest part? 54 of those points were through 3 quarters due to the blowout of the Jazz. How many points could the Beard have dropped if he played more in the 4th?
James Harden scored or assisted on 91 points on Sunday, the third-highest total in an NBA game pic.twitter.com/4Kmms4eFUH
— ESPN Stats & Info (@ESPNStatsInfo) November 6, 2017
James Harden now owns two of the top three points created games in NBA history. He only trails Wilt Chamberlain, who famously scored 100 points with 2 assists.
Where do you rank these two games on an all-time scale? Let us know in the comments below or on Facebook and Twitter!