Rockets News
The Houston Rockets are shooting over half of their shots from 3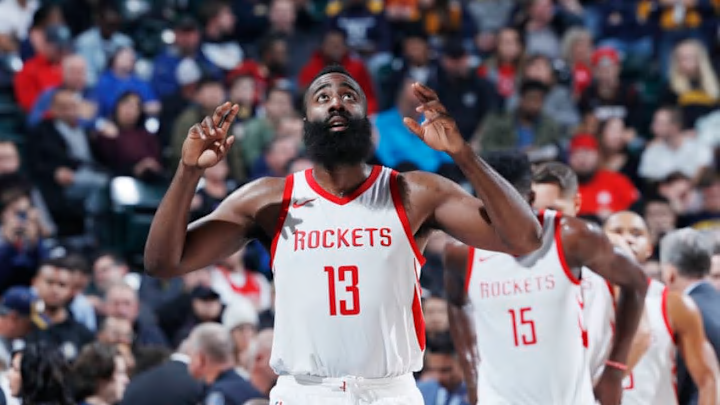 Photo by Joe Robbins/Getty Images
15 games into the season, the Rockets are still shooting the 3 at a historic pace.
For quite a few years now, the Houston Rockets as a franchise have focused their offense on the 3-point shot. They do this by practically rejecting the long mid-range jumper and shooting the majority of their shots from less than 5 feet or from beyond the arc.
Last year, the Rockets shattered the record for the most 3-pointers attempted by taking 40.3 of them per game as opposed to 46.9 2-point shots.
This season, somehow, they are shooting even more 3s. The Rockets are currently shooting OVER HALF OF THEIR SHOTS from beyond the arc. To be exact, they are shooting 44.5 of them per game as opposed to 38.6 from 2. Once again, they are on pace to shatter their record from last season.
This number includes 3 players (Harden, Gordon, Anderson) in the top 10 in the league for 3-point attempts.
Will they stay on pace?
Will it be possible for the Rockets to maintain this crazy pace for the remaining 67 games of the year?
Possibly, but it won't be easy. Chris Paul returns on Thursday. CP3 is an incredible mid-range shooter and he may bring that average down a little bit. However, he is totally prepared to play off the ball and behind the 3-point line, as well.
The game plan for the Rockets is still to keep taking this many 3s. Almost everyone on the team is encouraged to shoot them if they're open no matter what. That is why it is entirely possible for the Rockets to stay on track and break their own record. They would be the first team ever to shoot more 3s than 2s in a season.
They aren't alone in the new age of 3-point shooting. 5 of the top 10 teams of all time in 3-pointers attempted per game are from this season. How many will stay at that pace and finish in the top 10? Surely, the Houston Rockets will.
Be sure to follow us on Twitter and like us on Facebook!
*All stats via Basketball-Reference*