Rockets News
Rockets: James Harden named Western Conference Player of the Month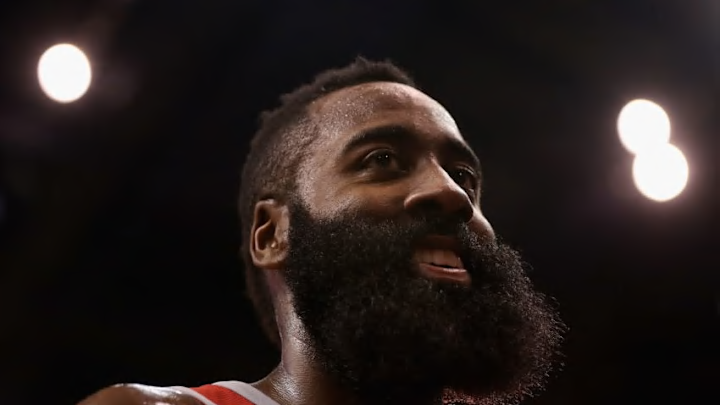 Photo by Christian Petersen/Getty Images
James Harden of the Houston Rockets has been named the Player of the Month for the Western Conference.
James Harden has gotten his reward for an absolutely incredible month.
On Friday, the NBA announced that James Harden of the Houston Rockets and LeBron James of the Cleveland Cavaliers have been named the Player of the Month for their respective conferences. Games played in October and November determined the player of the month as the season started in mid-October.
The Beard is playing some of the best basketball of his career so far this season, averaging a league leading 31.5 points and 9.8 assists, to go along with 5.2 rebounds and 1.7 steals on a career high 40.3 3-point percentage.
And Harden really found his groove in November. The nine-year pro averaged 34.9 points and 10.1 assists on 43.2 percent from downtown in the month. He came up just shy of joining Oscar Robertson and Nate Archibald as the only players to average at least 35 points and 10 assists for a calendar month. Harden is also leading the league in 3s made per game (4.5) and free throws made per game (8.0).
The 17-4 Rockets are off to their third-best start in franchise history and are on pace to win 68 games. Harden has also become the first Rocket in franchise history to score at least 20 points in all 21 games. The Beard is just the ninth player since the 1963-64 season to accomplish that feat and the first since the 2012-13 season. Harden also dropped a career high 56 points to go along with 13 assists against Utah on Nov. 5.
Next: James Harden: 3 things we learned from November
The Rockets are the first seed in a stacked Western Conference thanks to Harden's brilliant play. Harden, LeBron and Kyrie Irving are probably the front-runners for the MVP Award, and it'll be interesting to see how things turn out down the stretch. But when you look at the individual numbers and team records, its hard to make a better case for MVP for anyone other than James Harden.