Rockets News
Houston Rockets: Ryan Anderson is probable for tomorrow's game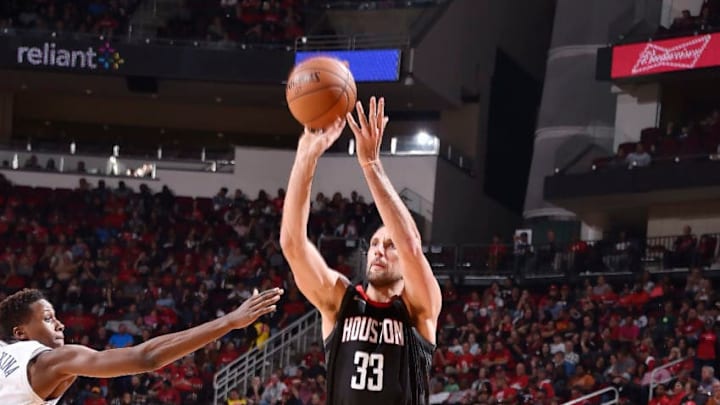 HOUSTON, TX - NOVEMBER 25: Ryan Anderson
The Rockets should have their best floor spacer back for tomorrow night's game against the Jazz.
Ryan Anderson is enjoying a great season at this point. He is shooting a near-career high percentage from the 3-point line (40.7%) and has really meshed well with Chris Paul.
Last game against the Lakers, Anderson reinjured his back. This injury is one that has plagued Ryno for quite some time. Thankfully, though, it seems to have been mild.
We got news today from Jonathan Feigen of the Houston Chronicle that Ryan Anderson is actually probably for tomorrow night's matchup against the Jazz. He was even back at practice and nailing 70-footers. You read that correctly.
Here's the vid:
Ryan Anderson from 70 feet. pic.twitter.com/WEESgcJDPU
— Jonathan Feigen (@Jonathan_Feigen) December 6, 2017
I'm no doctor, but that back looks fine to me!
Ryan Anderson's importance tomorrow night
Ryno will be a huge part of the Rockets' gameplan tomorrow night, should he play. The Jazz are a team that likes to play big with Derrick Favors and Rudy Gobert. On offense, having Ryan Anderson bring one of those guys out to the perimeter will greatly help James Harden and Chris Paul do their thing.
On defense, Ryan Anderson has actually been fairly solid, at least compared to years past. The Rockets will need all the help they can get on the glass against those two big men for the Jazz.
It's also a road game for the Rockets, so that means Road Ryno will be in full effect. While he has been shooting better at home in recent games, Anderson still shoots 5% higher from 3 on the road (43% vs. 38%). Will that trend continue tomorrow night in Salt Lake City?
Nene questionable for Rockets vs. Jazz with a left corneal abrasion. Ryan Anderson (back)probable.
— Jonathan Feigen (@Jonathan_Feigen) December 6, 2017
Be sure to follow us on Twitter and like us on Facebook for more Rockets news! We live tweet every game, so be sure to follow along.
*All stats via Basketball-Reference*