Rockets News
Chris Paul named Western Conference Player of the Week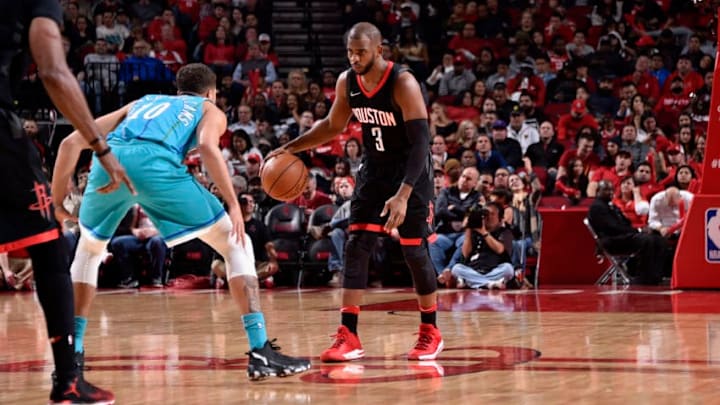 HOUSTON, TX - DECEMBER 13: Chris Paul
After an outstanding week of basketball, Chris Paul has been named the Western Conference Player of the Week.
Chris Paul has been an incredible addition to the Houston Rockets, that's for sure. He has really broken out in the last week, averaging 26.0 points and 7.8 assists to go along with 3.25 steals per game. That led to him winning the Player of the Week, an award that the Rockets seem to own.
He also was quite efficient this week. In 4 games (4 wins), he shot 53.8% from the field, including 45.7% from deep. He was the orchestrator of the offense and was able to put up some incredible numbers.
His running mate, James Harden has won three Player of the Weeks this season. Out of the ten total POTW awards, Rockets players have now won four of them.
As Jonathan Feigen pointed out, CP3 is the first Rocket not named Harden to win this award since Goran Dragic. Who all remembers that awesome run by the Dragon in 2012?
Paul the first Rockets player to win player of the week other than James Harden since Goran Dragic in April, 2012, the season before the Rockets traded for Harden. https://t.co/BQ3S3kZxYt
— Jonathan Feigen (@Jonathan_Feigen) December 18, 2017
Best game of the week by Chris Paul
Chris Paul's best game of the week was definitely against the Charlotte Hornets. In that game, CP3 put up a season-high 31 points and dished out 11 assists as well. He almost had a triple-double in that game, finishing with 7 rebounds.
He also played great defense on the point guards. Kemba Walker and Michael Carter-Williams combined for 13 points on 5/17 shooting.
Overall, it was a fantastic week for Chris Paul and for the Rockets. CP3 scored at least 20 points in every game and the Rockets continued their winning streak.
For the Eastern Conference, CP3's friend LeBron James brought home the award. He averaged a triple-double on the week as the Cavs went undefeated.
For more Rockets news and information, be sure to follow us on Twitter and like us on Facebook!