Rockets News
Houston Rockets: Player grades against the Utah Jazz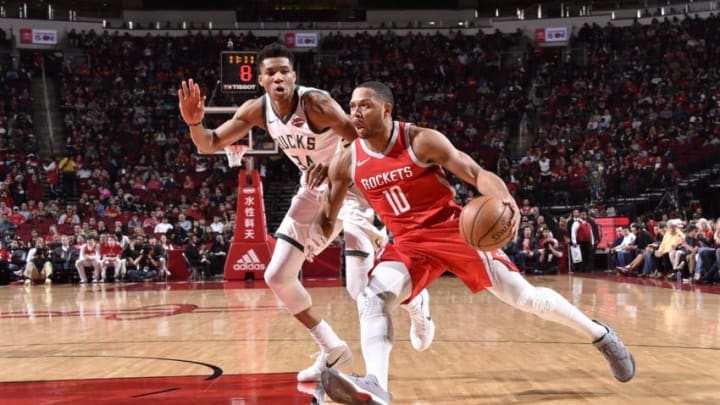 HOUSTON, TX - DECEMBER 16: Eric Gordon #10 of the Houston Rockets drives to the basket against Giannis Antetokounmpo #34 of the Milwaukee Bucks on December 16, 2017 at the Toyota Center in Houston, Texas. NOTE TO USER: User expressly acknowledges and agrees that, by downloading and or using this photograph, User is consenting to the terms and conditions of the Getty Images License Agreement. Mandatory Copyright Notice: Copyright 2017 NBAE (Photo by Bill Baptist/NBAE via Getty Images)
HOUSTON, TX – DECEMBER 16: Eric Gordon #10 of the Houston Rockets drives to the basket against Giannis Antetokounmpo #34 of the Milwaukee Bucks on December 16, 2017 at the Toyota Center in Houston, Texas. NOTE TO USER: User expressly acknowledges and agrees that, by downloading and or using this photograph, User is consenting to the terms and conditions of the Getty Images License Agreement. Mandatory Copyright Notice: Copyright 2017 NBAE (Photo by Bill Baptist/NBAE via Getty Images)
The Rockets had a comeback victory with a side of blowout tonight against the Jazz to pick up their 14th straight win.
The Houston Rockets won yet again, this time outscoring the Utah Jazz 41-15 in the final quarter to pick up the victory. This marks the 14th win in a row for the red-hot Rockets.
Most everyone on the Rockets was terrific, but especially the guards. Chris Paul, James Harden, & Eric Gordon seemed to carry at times for the team.
The Jazz had some good stat lines. Rodney Hood, notable Rockets-killer, dropped 26 points and 4 assists. Joe Ingles dropped 17 points with just 1 made shot from deep, a rarity for him. Finally, Ricky Rubio had 14 points and 4 assists but got his ankles destroyed by the Beard. We'll get to that in a minute.
Let's go over some of the notable performances for the Rockets tonight, starting with the player of the game:
Player of the Game
Next: Dynamic Duo