Rockets News
Rockets vs. Wizards recap: Losing streak extends to 5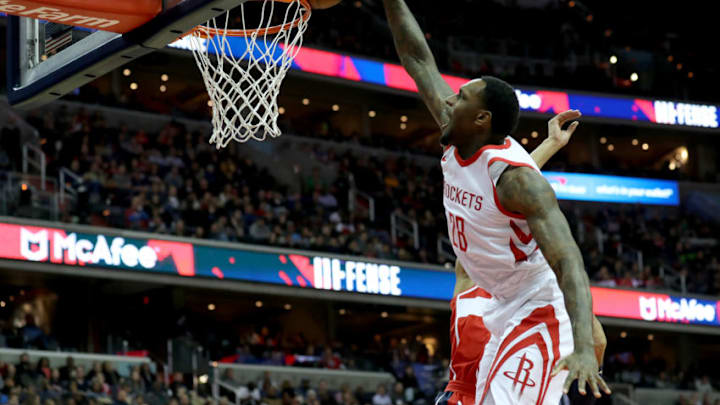 WASHINGTON, DC - DECEMBER 29: Tarik Black
The Rockets have now lost 5 in a row and are tanking heading into the end of the month.
The Houston Rockets (25-9) can't seem to get past that 25 win mark. They have now dropped 5 in a row and seemed to have no interest in winning this game.
The Wizards (20-16) continue their trend of alternating wins and losses. They thoroughly outplayed the Rockets tonight on both ends of the court.
Let's look at the stats, I suppose:
Key Stats
James Harden: 20 points, 4 assists
Eric Gordon: 16 points
Gerald Green: 18 points
Bradley Beal: 21 points, 9/17 shooting
Otto Porter: 26 points, 6 rebounds, 7 assists
Why the Rockets Lost
The Rockets got completely outshot by the Wizards. Washington shot 50% from deep (18/36) and 53.4% overall. The Rockets, on the other hand, shot 29.2% from deep (14/48) and 42.7% overall.
James Harden was very non-aggressive tonight. He shot just 14 shots and took only 6 free throws. The Beard seemed uninterested in playing tonight after his rough outing last night. He played a very rare under 30 minutes tonight.
Otto Porter was lights out tonight and proved why he would be perfect on the Rockets. Oh well, that's just a pipedream.
Chris Paul didn't look 100% healthy during his return.
Positives
Despite the loss, there are some positives that came out of tonight. The first positive is a big one: Gerald Green. He came off the bench to score 18 points and hit four 3s for the Rockets. After a dud of a game last night, he proved that he belongs on the team. Ariza played just over 30 minutes instead of his normal 40+, thanks in part to Green (and the blowout).
Ryan Anderson's shot was awful. There's no denying that. However, he was actually willing to shoot tonight, something that we haven't seen in awhile. His shot will fall eventually as long as he continues to be aggressive. He also had a season-high 12 rebounds and was very active down low.
The schedule lightens up a bit after the Rockets dropped their tough games to the Thunder, Celtics & Wizards. They play Golden State twice in the next month, but the rest of the schedule should be manageable for them. It's time to get healthy and come back strong.
94-95 Rockets lost 5 in a row then went on to win 5 straight.
— Space City Scoop (@SpaceCity_Scoop) December 30, 2017
Be sure to follow us on Twitter and like us on Facebook!