Rockets News
Houston Rockets: What to watch for against the Warriors on Thursday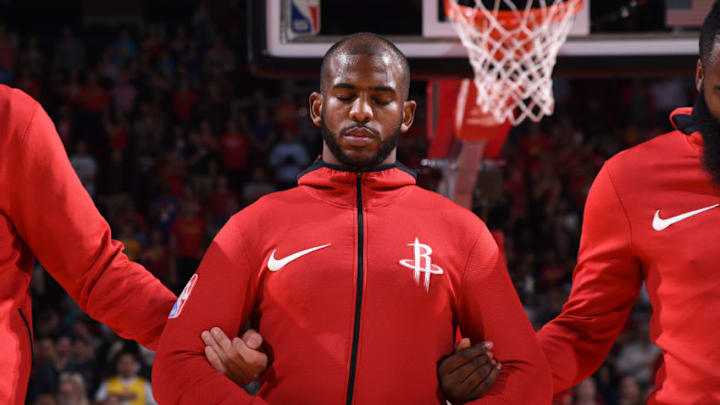 Photo by Bill Baptist/NBAE via Getty Images
Photo by Bill Baptist/NBAE via Getty Images
The Houston Rockets and Golden State Warriors square up for the second time this season in one of the most highly anticipated matchups in the league.
Everyone has been waiting for this rematch since the Houston Rockets defeated Golden State in a 122-121 thriller on opening night.
The fans have been looking forward to watching two of the most talented teams in the league go at it, sports journalists and the media have longed for the opportunity to capitalize on the hype and attract eyeballs to their content and the respective coaching staffs are excited to see how well their adjustments play out against a conference foe.
The players have been waiting for this matchup as well. The Rockets want to prove that the first game wasn't just a fluke, that they've acquired enough talent to beat best of the west. And the Warriors would like nothing more than to crush the Rockets on their own floor. Golden State wants to show that they're still the kings of the hill, and that the Rockets need to be put back into their place.
But unfortunately, those pesky injuries mess everything up. Of course, James Harden will miss at least the next few weeks with a Grade 2 hamstring sprain, which is a big blow to the Rockets. Now, the news has just been released that Kevin Durant will miss tonight's game as well. Durant injured his right calf against the Mavericks on Wednesday night in the first quarter, although he was able to finish the game.
Golden State forward Kevin Durant (calf strain) will not play tonight at Houston.
— Chris Haynes (@ChrisBHaynes) January 4, 2018
Without Harden and Durant, arguably the two best players on their respective teams, this matchup loses a lot of its luster. It's impossible to get a true sense of how these squads matchup without two of the premier scorers in the game.
With that in mind, here are a few things to watch out for in tonight's game.
Next: The 2x MVP is back