Rockets News
Rockets vs. Timberwolves recap: No Ariza/Green, no problem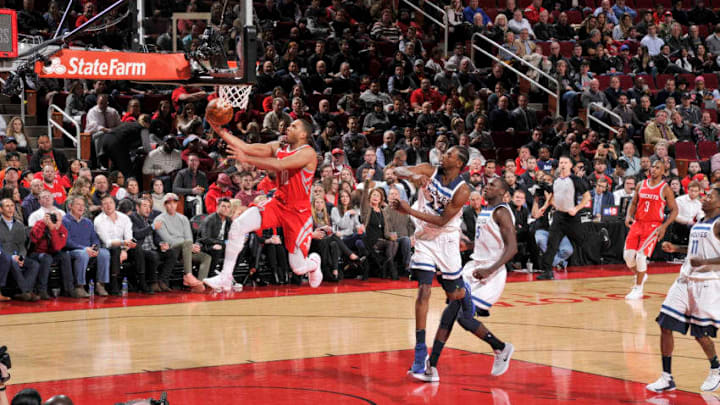 HOUSTON, TX - JANUARY 18: Eric Gordon
The Rockets won the first game that James Harden has played in since December 31.
The Houston Rockets (31-12) defeated the Minnesota Timberwolves (29-18) fairly handily tonight by a score of 116-98.
Trevor Ariza and Gerald Green both missed the game with a suspension and they will both miss Saturday's game against the Warriors as well. Even without them, the Rockets were able to come out with a victory.
James Harden played his first game all year (bad joke, I know, sorry) and was quite rusty. He had just 10 points on 3-15 shooting and ended his season-long streak of scoring 20 or more points in a game.
Let's look at some key stats:
Key Stats:
Eric Gordon: 30 points, 3 rebounds, 3 assists, 7/13 from 3
Clint Capela: 20 points, 5 rebounds, 7/9 from the field (6/6 free throws)
Chris Paul: 19 points, 9 assists, 6/12 from the field
Luc Mbah a Moute: 14 points, 5 rebounds, 4/6 from 3
How the Rockets won
The Rockets shot 17/39 from deep (43.6%) and that was a huge part of overtaking the Timberwolves. Closing out quarters came easily to Houston tonight and the 3-point shooting was key to that.
Eric Gordon hit a ridiculous half-court shot:
https://twitter.com/HoustonRockets/status/954204927890542592
The Rockets were also able to contain Andrew Wiggins and Jeff Teague. The two combined for 22 points on 8/20 shooting and were pretty easy to miss during the game. Wiggins finished with an atrocious plus-minus of -31.
Jamal Crawford was also ineffective for the Wolves. He had 0 points on 0-6 shooting.
Luc Mbah a Moute was excellent for the Rockets. He fit into the starting small forward role perfectly with Ariza out tonight. He had 4 makes from long range and played great all-around defense.
P.J. Tucker, though his offense has been missing, contributed 9 rebounds. Nene returned triumphantly with 12 points and 8 rebounds.
R.J. Hunter played 36 seconds. Woo!
Take a look at these Eric Gordon highlights from tonight!
Be sure to follow us on Twitter and like us on Facebook!