Rockets News
Ryan Anderson has encouraging game against the Spurs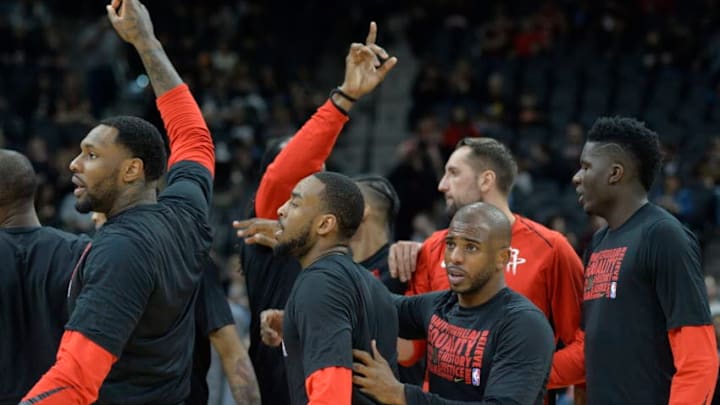 SAN ANTONIO, TX - FEBRUARY 1: Chris Paul
Last night in San Antonio, Ryno showed that he may be back to his old form.
The Houston Rockets had a huge victory last night over the San Antonio Spurs. Ryan Anderson was a big part of it, dropping 13 points on an efficient night scoring (3/5 from deep).
Ryno's struggles have been well-documented on this website. He has been pretty bad over the past month+ since his great start to the season. After starting the year shooting over 40% from downtown, he's made his way to 37%. While that may not seem like a huge change, the way he has been playing has been far different.
Since his extended slump, Anderson has been seemingly out of confidence with his shot. He is taking far fewer attempts per game and his average is about 1.5 of them back of last season. In fact, since December 9, he is taking just 4.3 attempts per game and shooting them at a 31% mark.
Teams have certainly played better defense on Ryno, but his play has still been concerning.
Sign of things to come
Last night, Ryan Anderson was oozing with confidence. That is something we've definitely missed over the past two months. Take a look at this play early on in the game:
Ryan Anderson has it going early for the @HoustonRockets on @NBAonTNT! pic.twitter.com/ScUV7gpQao
— NBA (@NBA) February 2, 2018
No hesitation, just buckets. That's the Ryan Anderson we know and love. He's done quite a bit more driving since his shot's been off instead of trying to shoot out of it.
Here's another one:
Ryan Anderson is on ? early! pic.twitter.com/XPMs5Hox8R
— NBA on TNT (@NBAonTNT) February 2, 2018
He knew it was in as soon as it left his hands. This is the Ryno that the Rockets will need come playoff time.
Hopefully, this is a sign of things to come for Ryan Anderson. This team is already remarkably good, even during his slump. Imagine how good they will be when they are fully healthy with a sharpshooting Ryan Anderson.
Be sure to follow us on Twitter and like us on Facebook!
*All stats via Basketball-Reference*