Rockets News
Rockets vs. Nets recap: Fifth straight win for Houston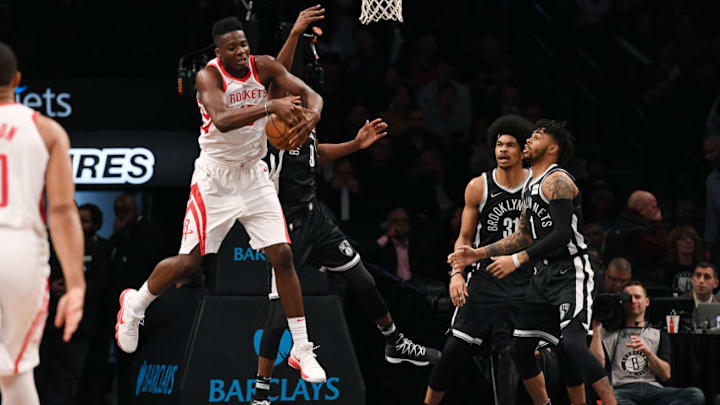 NEW YORK, NY - FEBRUARY 6: Clint Capela
The Rockets are on a roll, winning their fifth straight game tonight.
The Houston Rockets (39-13) won again tonight, this time against the Brooklyn Nets (19-36). It was a fairly close game for most of it until the Rockets really took control in the third quarter.
In the end, the Rockets walked out with a 123-113 victory on the first night of a back-to-back.
The stars shined tonight for Houston, with CP3 and the Beard doing work throughout the game. They combined for 61 points, 11 rebounds, and 10 assists. Just narrowly beating Harden's 60-point triple-double from the other night.
Let's look at the key stats from tonight:
Key Stats
James Harden: 36 points, 4 rebounds, 5 assists
Chris Paul: 25 points, 7 rebounds, 5 assists, 2 steals
Clint Capela: 18 points, 11 rebounds, 4 blocks
Gerald Green: 16 points, 4/6 from deep
Notes/How the Rockets won
Ryan Anderson left the game early for the Rockets, unfortunately. He was in pain and went to the locker room. He was just getting back to shooting well, hopefully, he recovers quickly.
The Rockets shot the ball extremely well from 3 tonight. They shot 16/33 overall for a solid 48.5%. That was a huge reason why they walked out with a victory.
Clint Capela continued his dominance with another 4 blocks in addition to his double-double. He has been a force down low for the Rockets this season.
Eric Gordon had 13 points on an efficient 5/9 shooting in his return from injury. It'll certainly be nice to have him back in the rotation!
The defense of the Rockets was able to hold D'Angelo Russell to just 10 points on 4/12 shooting. That was key to the victory.
Coach D'Antoni was able to keep both Harden and Paul's minutes under 35 tonight. That'll be huge for the back-to-back tomorrow in Miami against the Heat.
Be sure to follow us on Twitter and like us on Facebook for more!