Rockets News
The Rockets attempt to push their winning streak to 8 against Dallas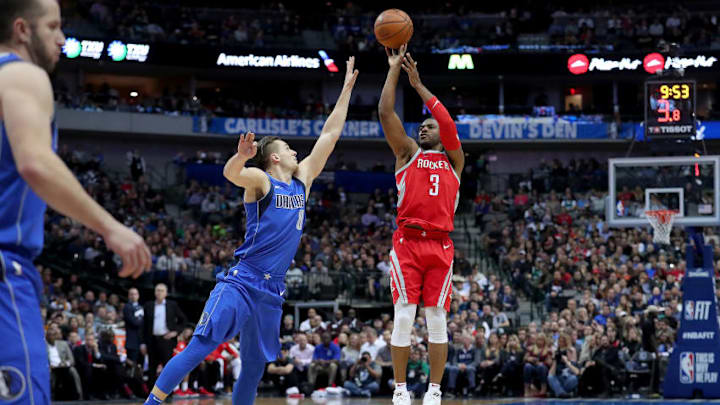 Photo by Tom Pennington/Getty Images
The Dallas Mavericks travel to Toyota Center to take on the red-hot Houston Rockets in another Texas showdown.
The Houston Rockets are hitting their stride as we approach the All-Star break. When most teams start to slip in their execution as they anticipate the NBA's vacation, the Rockets have put their foot on the gas.
Houston hasn't lost in February with their last lost coming over two weeks ago. In 2018, the Rockets have the NBA's best record at 15-4. And their schedule hasn't been extremely easy. Some of those wins have come against the Warriors, Spurs, Timberwolves, Cavaliers and Blazers.
The Rockets are also leading the NBA in point differential (8.6) and they have strung together seven wins in a row. Houston has made a habit of blowing out their opponents, as they have won by an average of 15 points over their winning streak.
Things haven't been the same for the Dallas Mavericks. At 18-38, they have one of the worst records in the league, and they have a road record of just 7-20. It looks like Dirk Nowitzki will play his last years in Dallas on a lottery team.
But things aren't all bad for the Mavs. Dennis Smith Jr. is a talented, explosive point guard that should mature into a perennial All-Star in his prime. And at least the Mavericks should get a decent pick in a deep 2018 Draft Class.
Injuries
As for injuries, Trevor Ariza is still out with a strained left hamstring and there isn't a specific date for his return.
Next: Analyzing the Joe Johnson and Brandan Wright signings
For the Mavs, Seth Curry will miss the rest of the season with a left leg surgery. Nerlens Noel is out due to a left thumb injury and Dorian Finney-Smith will miss the game because of left knee quadriceps tendonitis.
Where to watch
You can catch this game on NBA TV at 6 PM CT!