Rockets News
The Rockets hold on to beat the Mavs for their 8th straight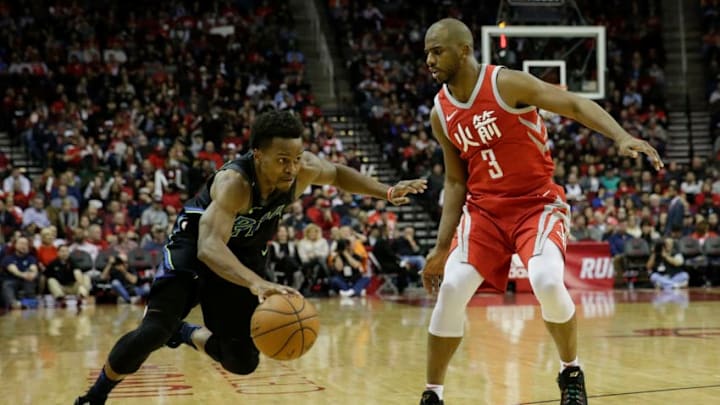 HOUSTON, TX - FEBRUARY 11: Yogi Ferrell
In a game that was closer than it should have been, the Rockets held on for the victory.
The Houston Rockets (42-13) are now winners of 8 games in a row after beating the Dallas Mavericks (18-39). The Rockets are also now just one win from being 30 (!!!) games over .500.
Houston is just .5 games back of the Warriors for the No. 1 seed in the Western Conference. Will that happen this week?
Dallas played the best they possibly could tonight. They were without Dirk Nowitzki and J.J. Barea as well as Wesley Matthews. Their young players still showed up and contributed, making the game a close 104-97 win for the Rockets.
Let's look at some of the stats:
Key Stats
Chris Paul: 25 points, 8 rebounds, 9 assists, 3 steals
James Harden: 27 points, 6 rebounds, 5 assists, 2 steals, 1 block
Clint Capela: 16 points, 11 rebounds, 3 blocks
Gerald Green: 12 points (4/9 from the field, every shot a 3)
How the Rockets won
The Rockets were flat out lazy tonight. They didn't come ready to win against a Mavs team that was depleted of talent. The effort level was low, but thankfully they still prevailed.
Gerald Green continues to be a fantastic weapon for the Rockets with Trevor Ariza out with injury. He had another 4 makes from deep, all in the first half, though.
Chris Paul was excellent tonight. In a game where James Harden wasn't at his best, CP3 came ready to contribute. He shot 9/15 from the field and easily had the best plus-minus on the team at +22.
The Rockets won despite a rough game from Ryan Anderson. He was starting to get back on track, but tonight's performance was disappointing. He had 5 points with no 3s made and a plus-minus of just +3.
The defense of the Rockets in the second half won them the game. They held the Mavericks to just 42 points in the second half and 97 overall. That should help the ol' defensive rating!
Be sure to follow us on Twitter and like us on Facebook for more!