Rockets News
Rockets: Trevor Ariza to return after the All-Star break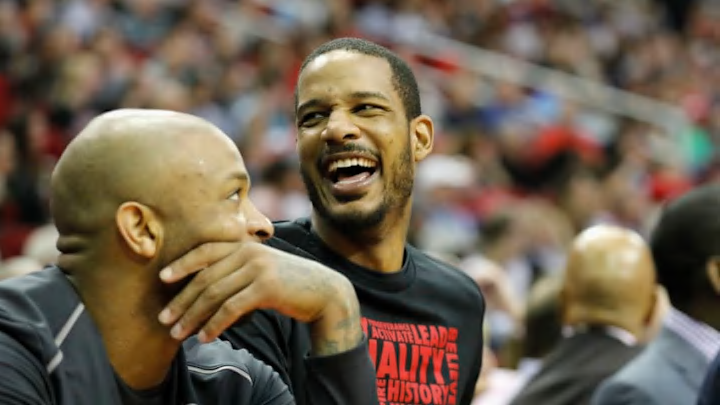 HOUSTON, TX - FEBRUARY 09: Trevor Ariza
After missing time due to injury, one Rockets forward is returning to action on Friday.
Since late January, Trevor Ariza has been out with a hamstring injury. Hamstring problems have haunted the Rockets this season, first with James Harden and now with Trev.
Thankfully, it appears that Ariza will be good to go for Friday against the Timberwolves. He's had a few weeks off, including the All-Star break, to rejuvenate and heal.
His return will make the Rockets fully healthy again, something that hasn't happened too often this year. Let's just hope that this healthiness is here to stay for the rest of the regular season and into the playoffs.
Mark Berman reported today, in a video of Ariza, that he is good to go:
Trevor Ariza is good to go. #Rockets pic.twitter.com/duXpUasK0x
— Mark Berman (@MarkBermanFox26) February 21, 2018
It's also nice to hear Trevor compliment the training staff of the Rockets.
Who will go back to the bench?
Since Trevor Ariza and Ryan Anderson both went out with injuries around the same time, the starting lineup has changed a bit. P.J. Tucker and Luc Mbah a Moute have both been starting at the forward positions, even after Ryno returned. That begs the question, who will stay and who will go? Will both go?
Both players are guys that can play great defense and stretch the floor. P.J. Tucker, though, has shot quite a bit better from deep at 44% as compared to the 31% from Luc since they have started recently.
Luc Mbah a Moute likely has the upper hand, though, as he originally started a few games for Ariza before Anderson went down. He has still shot near-50% overall since starting and has played great defense, it's just his 3 that is off.
Another very viable scenario is having Ryan Anderson rejoin the starting 5. He has been pretty great as of late and is a part of the main starting lineup for the Rockets. While many fans may disagree with this move, it may be a smart thing for Houston to do. We'll have to discuss this deeper in another post and look at the pros and cons.
Anyways, welcome back, Trevor Ariza!