Rockets News
Harden and Paul think Rockets will beat the Warriors in playoffs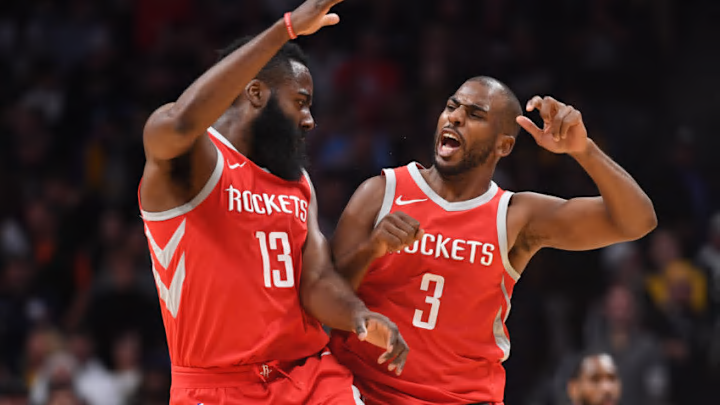 Photo by Justin Tafoya/Getty Images
According to Daryl Morey, James Harden and Chris Paul are confident that the Rockets can defeat the Golden State Warriors in the postseason.
The Houston Rockets have dominated the regular season, and according to Daryl Morey, they're focused on making the Finals.
Houston has won a league-leading 12 consecutive games. This is Houston's second double-digit winning streak of the season after winning 14 consecutive games between November and December.
The Rockets are first in the NBA in offensive rating (118.7) since their streak began on Jan. 28. They're fifth in the NBA in defensive rating (104.0) and first in net rating (14.7). Houston's defense has been so good in part because they've limited their turnovers to 11.4 per game, which is tied with Toronto for the fewest in the league during that stretch.
Furthermore, the Rockets have played at the slowest pace in the NBA (97.21) during their winning streak. Mike D'Antoni's teams are historically famous for pace-and-space and seven seconds or less offense. Although, this squad can win by running the floor or by slowing the game down and picking defenses apart in half court sets.
James Harden and Chris Paul are ready for the Warriors
Since the start of the season, there have been plenty of conversations about the potential of a Rockets-Warriors playoff series. Golden State and Houston are the league's two best teams and they're likely to meet in the Western Conference Finals.
In an interview with ESPN's The Lowe Post, Daryl Morey said that James Harden and Chris Paul are confident that they can get past the Warriors in the playoffs, via USA Today's Ananth Pandian.
Zach Lowe: Has your team convinced you that if that series happens… that you have a real chance to beat the real Warriors?
Daryl Morey: James Harden and Chris Paul think we'll beat the Warriors.
The Rockets have had to adjust to new players and various injuries throughout the season. Yet, they still have the league's best record deep into the season. If any team in the NBA can dethrone Golden State, it will definitely be the Rockets.
Next: Rockets: All-Star break midseason review – Starting lineup
With Kawhi Leonard out for San Antonio and with Oklahoma City's inconsistent play, there aren't many real contenders in the West. Hopefully the Rockets can stay healthy and ride this wave into the postseason.