Rockets News
Rockets vs. Jazz preview: Two hottest teams in the league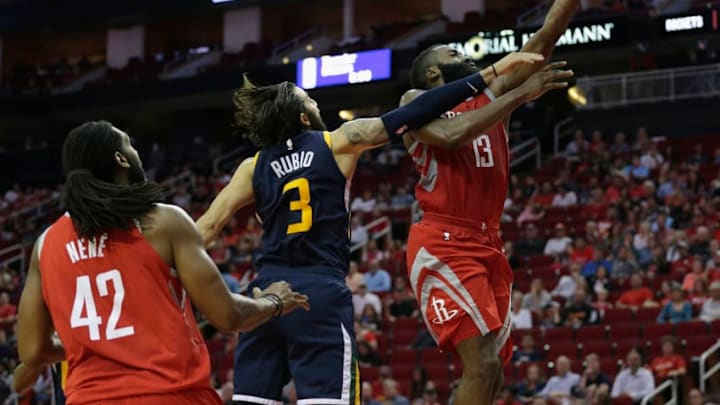 HOUSTON, TX - NOVEMBER 05: James Harden
Two of the hottest teams in the league will face off tonight in Utah.
The Houston Rockets (46-13) are fresh off a win last night in Denver. It came down to the wire, but Houston was able to pull it off in the end.
The Utah Jazz (31-29) recently lost their long winning streak after falling to the Trail Blazers on the 23rd. They bounced back and beat the Mavericks the next night, though, and come into tonight having won 12 of their last 13 games.
Houston will look to push their winning streak to a baker's dozen while Utah continues to push for the playoffs. It should be a good one!
Let's look at the lineups:
Projected Starting 5
Rockets
Chris Paul/James Harden/Trevor Ariza/P.J. Tucker/Clint Capela
Jazz
Ricky Rubio/Donovan Mitchell/Joe Ingles/Derrick Favors/Rudy Gobert
Notes
These two teams have already played three times this year, all won by Houston. They also were all played before December 18.
James Harden had one of his best games of the year against Utah the first time. He went off for 56 points and 13 assists. He has scored 25+ in the other two games against the Jazz this year, too.
Chris Paul had a triple-double of 18 points and 10 rebounds/assists last time these two teams met. He, along with others, have also been able to keep Donovan Mitchell fairly quiet. You can't expect that to happen again with the talent the rookie has.
The Rockets will need a better game out of Clint Capela than what he showed last night. His 6 turnovers were the most he's ever had in a game in his NBA career and he looked lost on both ends of the court. It happens, Clint, now go out there and take it out on the Jazz.
The James Harden vs. Ricky Rubio saga will have another installation tonight, which is always exciting. Watch where you step, Ricky!
Be sure to tune in on AT&T Sportsnet SW tonight at 8 p.m. CT!