Rockets News
Rockets: Ryan Anderson, Joe Johnson out against the Thunder on Tuesday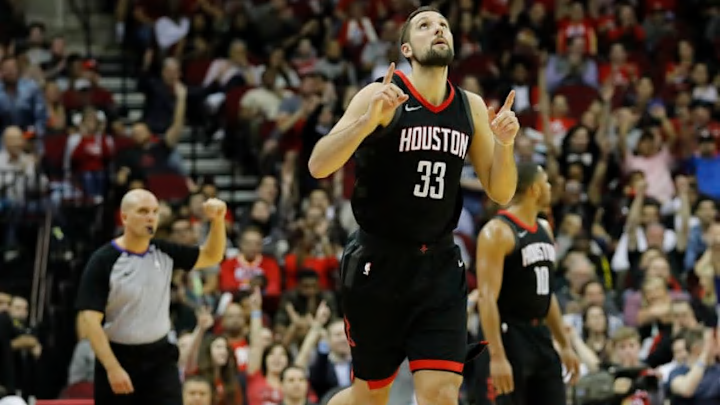 Photo by Tim Warner/Getty Images
Ryan Anderson, Joe Johnson and Brandan Wright for the Rockets will miss Tuesday's nationally televised matchup with the Thunder.
If there is one thing that hasn't gone according to plan for the Rockets this season, it's been the health of the players.
We've seen James Harden and Chris Paul miss weeks at a time. And role players such as Eric Gordon, Trevor Ariza and Luc Mbah a Moute have missed a fair amount of time as well with various injuries.
Unfortunately, Ryan Anderson will miss his fourth consecutive game against the Thunder due to a sore hip. Joe Johnson will also miss Tuesday's game with an illness and Brandan Wright is out with a sore knee.
Success isn't promised over the course of an NBA season, but adversity definitely is. Although, the Rockets are able to absorb injuries very well due to the depth of the roster. Luc Mbah a Moute told the Houston Chronicle's Jonathan Feigen that many of the players on the team are interchangeable.
"I guess Tuesday I'll be playing at the four, but when you look at it, the way we play, two, three, four sometimes one are interchangeable. There are spots on the floor we have to fill. From there, Chris (Paul) and James (Harden) make plays. Except for Clint (Capela), who is really big, diving and catching lobs, sometimes everybody is interchangeable."
Ryan Anderson is averaging 10.0 points and 5.3 rebounds per game, although his floor spacing is perhaps his biggest contribution to the team. Joe Johnson has averaged 6.0 points and 2.3 rebounds in 6 games as a member of the Rockets.
Next: Can the Houston Rockets surpass their 2008 winning streak?
The Thunder average 45.1 rebounds per game, which is tied for fourth in the NBA. Furthermore, OKC leads the league in offensive rebounding (12.7) as well. With Mbah a Moute playing power forward, the Rockets will have to take a more team approach to rebounding.