Rockets News
Rockets tie franchise record with 58th win of the year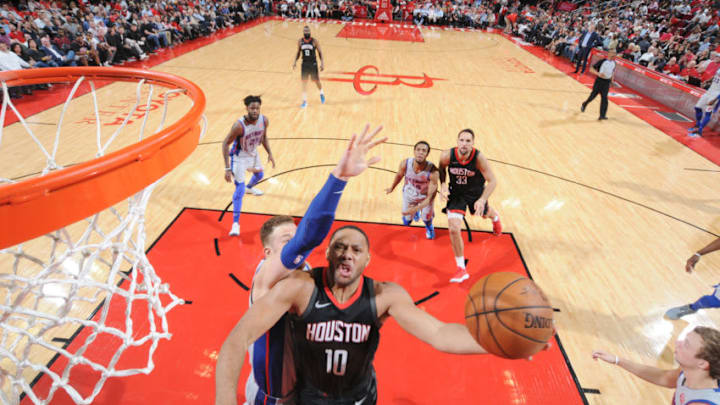 HOUSTON, TX - MARCH 22: Eric Gordon
The historic season continues for the Rockets as they beat the Pistons 100-96.
Was it ugly? Yes. Did it get the job done? Yes. A win is a win and this one was as hard to watch as it gets. Still, the Rockets controlled overtime and gutted out a win against the Pistons.
In the process, they made some more history. They tied the 1993-94 Rockets with the most wins in franchise history as they picked up win No. 58 of the year.
And that team, as you may remember, won the championship.
Let's look at some of the key stats from tonight's victory:
Key Stats
Eric Gordon: 22 points, 5 assists, 2 steals
P.J. Tucker: 10 points, 8 rebounds (4 of them offensive)
James Harden: 21 points (4-20 shooting), 8 rebounds, 5 assists
How the Rockets won
The Rockets certainly didn't win thanks to their MVP favorite tonight. A rare off day for James Harden saw him shoot 4-20 and he didn't have over 15 points until late in the fourth quarter when he started to get it going a little bit.
Eric Gordon was great throughout most of the game. He had three 3s and ran the offensive when Harden wasn't on the court with Chris Paul out tonight.
P.J. Tucker is one of the clutchest rebounders in the league. He had several huge offensive rebounds late in the game that helped seal the win for the Rockets.
Joe Johnson showed some glimpses tonight that he will be able to help the Rockets come playoff time.
Next Game
The Rockets will play on Saturday against the Pelicans in Houston. Hopefully, that one isn't quite as ugly as tonight's game. Be sure to tune in and cheer on the Rockets as they go for their 7th win in a row!
Congrats again to this year's Rockets as they look to break 60 wins for the first time in franchise history!