Rockets News
The Houston Rockets pick up win No. 60 after defeating the Hawks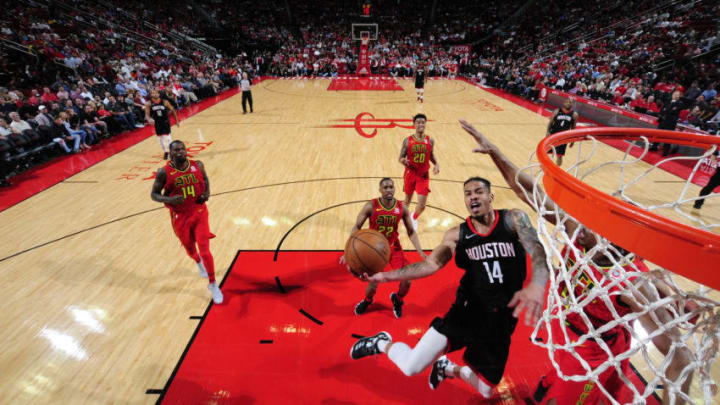 HOUSTON, TX - MARCH 25: Gerald Green
The Rockets have now done something for the first time in franchise history: win 60 games in a single season.
The Houston Rockets are now 60-14 after dismantling the Hawks 118-99. They were in control from the beginning and were able to rest some players down the stretch of the fourth quarter.
The Hawks were outmatched but still put up a fight. They got 28 points out of Taurean Prince and he looks like a good young player for the team. They also started former Rocket Isaiah Taylor, which was pretty interesting.
After getting the franchise record for wins in a season last night, the Rockets have now won 60 games in a season for the first time ever. Let's hope it translates to playoff success and then some!
Let's look at some of the stats:
Key Stats
James Harden: 18 points, 10 rebounds, 15 assists, 2 turnovers
Gerald Green: 25 points, 7 rebounds, 5/10 from deep
Eric Gordon: 22 points, 8/13 FG
Clint Capela: 14 points, 8 rebounds, 2 steals, 2 blocks
How the Rockets won
The Rockets are simply a much, much better team than the Hawks. Atlanta is currently in last place in the East and is looking to tank, so this result comes as no surprise.
James Harden had a bad night shooting (6/15 FG) but made up for it with an all-around great game. He had 10 rebounds and 15 assists with just 2 turnovers.
Gerald Green was incredible. He led the Rockets in scoring as he does from time-to-time in route to hitting 5 shots from deep. Green really deserves some playing time in the playoffs.
Ryan Anderson, Luc Mbah a Moute and Chris Paul didn't play tonight, but their production was more than made up for by other contributors. Ryno and CP3 will likely be back for Tuesday's game while Mbah a Moute will probably be back on Friday.
Overall, a great performance by the Rockets as they get to 60 wins for the first time ever!
Next: The players don't care about setting the franchise record for wins