Rockets News
Houston Rockets will clinch No. 1 seed with Warriors loss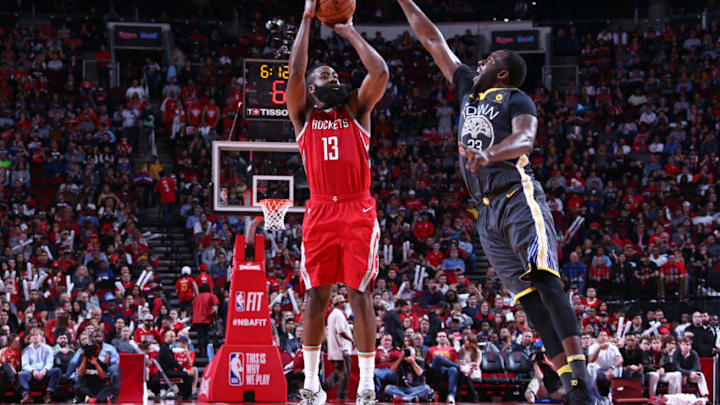 Photo by Nathaniel Butler/NBAE via Getty Images
The Houston Rockets almost have the top spot locked up as they can clinch the No. 1 seed with a Warriors loss tonight.
At the start of the season, most basketball fans wouldn't have expected the Rockets to run away with the top seed in the western conference.
Yet, that's exactly what they're about to do.
According to the Sun Sentinel's Ira Winderman, the Rockets will clinch the No. 1 seed with a Warriors loss.
Per NBA:
Possible clinchings for Thursday:
HOUSTON clinches best record in the West with a Golden State loss.
WASHINGTON clinches a playoff spot with a win.
MIAMI clinches a playoff spot with a win AND a Detroit loss.
— Ira Winderman (@IraHeatBeat) March 29, 2018
The Warriors have dropped their last two games and have lost six of their last 10 games as all four of their All-Stars have been dealing with various injuries. The Warriors will take on Giannis Antetokounmpo and the Bucks in Oakland on Thursday, and Kevin Durant and Draymond Green are expected to return. Obviously, the return of KD and Green makes Golden State a completely different team.
The Rockets are currently 6.5 games ahead of the Warriors in the standings. After Golden State's matchup with Milwaukee, the Warriors and Rockets will have exactly seven games remaining on their schedules.
It doesn't really matter if Golden State wins tonight or not, because the Rockets have unofficially taken the No. 1 seed. This is an incredible accomplishment for Houston, as they have quieted all of the critics who said that James Harden and Chris Paul would never work together.
The Rockets have been the best team in the NBA from start to finish, led by the best player in the NBA. Anything can happen, but the Rockets and the Warriors will likely meet in the Western Conference Finals.
Next: LeBron James is not this year's MVP, James Harden is
With a healthy roster and home court advantage, the Rockets know that they can beat anyone.