Rockets News
The Houston Rockets lose last meeting with the Spurs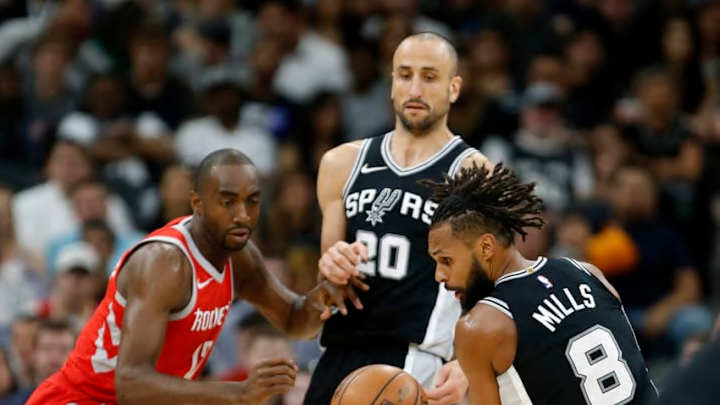 SAN ANTONIO,TX - APRIL 1 : Patty Mills
The Rockets lost today after securing the top record in the league with a Toronto loss last night.
The Houston Rockets saw their 11-game winning streak snapped in the first game that doesn't really matter for the team. It was also the last time the Rockets will see the Spurs, at least in the regular season. Houston won the season series 3-1.
The Spurs thoroughly outplayed the Rockets and it showed with a loss by double-digits, 100-83. From start to finish, the Spurs dominated the game.
Thankfully for Houston, no matter the outcomes the rest of the regular season, they will still have homecourt advantage throughout the playoffs and will have the best record in the entire league.
Let's look at some stats from the loss:
Key Stats
James Harden: 25 points, 8 assists
Eric Gordon: 18 points
Clint Capela: 11 points, 10 rebounds
Gerald Green: 11 points, 8 rebounds
Why the Rockets lost
The reason Houston lost starts with the incredibly bad shooting. The team as a whole shot an abysmal 33.8% and that is mostly why they lost.
The defense was decent, only allowing the Spurs to score 100 points in total. If the Rockets would have scored their average amount of points, they would have won easily. Credit to the Spurs for playing some tough defense all game, though.
James Harden was decent despite the loss. He still had 25 points and 8 assists, but still continued his bad string of shooting. Harden said postgame that we shouldn't worry about his poor shooting, though.
Thankfully, the game didn't matter
A loss is no fun, no matter the circumstances, but today's made it a little bit better. The Spurs are in a position where they need to fight every game to secure their playoff spot. The Rockets, on the other hand, have already secured where they will be in the standings.
That doesn't excuse the poor play by the team, but it at least gives it a reason.
The next game will be on Tuesday against the Wizards. We'll see if Houston gives a little more effort.