Rockets News
Chris Paul was very anxious before joining the Rockets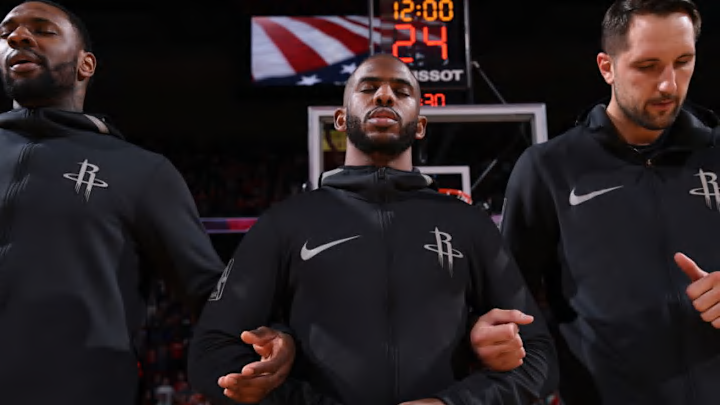 Photo by Bill Baptist/NBAE via Getty Images
Chris Paul opens up about how much anxiety he dealt with when leaving the Los Angles Clippers to join the Houston Rockets.
Chris Paul's time with the L.A. Clippers had run its course, and he realized that it was time for him to find a new team.
Paul and the Clippers were contenders for many years, so naturally, he wanted to join a contender. Out of all of the potential suitors, the Houston Rockets were the perfect fit for the nine-time All-Star.
Picking his next team was the easy part. Although, moving his family to another city and the fear of what was to come caused a bit of anxiety.
So much anxiety that CP3 lost his lunch at a photo shoot, according to CNBC Make It's Sarah Berger.
"Everyone always thinks us athletes, we've always got it together. That's a lie. I was throwing up at [a] photo shoot. I was out there taking pictures and I was like, 'Give me a second.' Boom. I ran out, threw up. Boom. Came back and acted like I had just taken a phone call. [It was] just the anxiety of knowing that there was a change that was coming."
Not only was Paul going to be wearing a new uniform with new teammates halfway across the country, but he also had to move his family from L.A. to Houston. His kids would also have to change schools and make new friends.
Also, the pairing of Chris Paul and James Harden brought up a lot of questions. Both players were accustomed to handling the ball for the majority of each possession, so it would take some time for them to adjust.
Next: Gerald Green has earned a spot in the rotation for the playoffs
Funny enough, the Rockets won in each of Chris Paul's first 15 games with the team. Houston has a league-leading 63-15 record and they're 42-4 when both Harden and Paul play together.