Rockets News
Rockets vs. Timberwolves NBA Playoffs Game 1 preview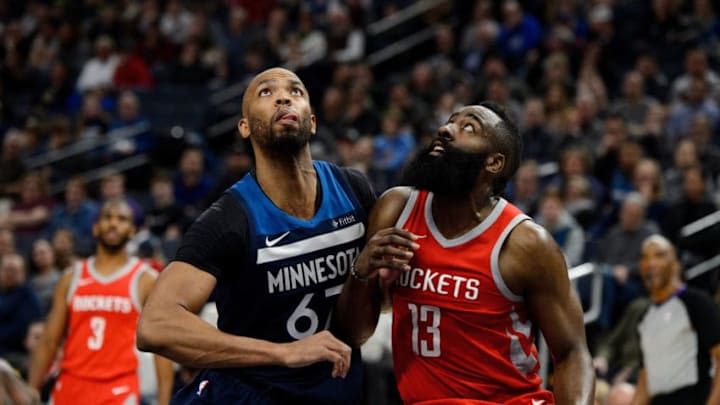 MINNEAPOLIS, MN - MARCH 18: James Harden
The Rockets begin their playoff journey tonight vs. the Timberwolves in Game 1 of the postseason.
The time is finally here. The Houston Rockets will finally get the chance to prove their skill with their first playoff game tonight.
After going 65-17 in the regular season, the Rockets enter the playoffs as the No. 1 seed in the tough Western Conference. They will face the Minnesota Timberwolves in the first round.
Houston is the heavy favorites for the series, as they should be. Today we will preview this first game of the first round.
Let's start with the injury report:
Injury Report
Luc Mbah a Moute will miss the entire first round of the playoffs for the Rockets, unfortunately. He dislocated his shoulder in the second-to-last game of the regular season.
Ryan Anderson is also questionable to play for Houston and it is looking like he will not.
Minnesota seems to be healthy with their main players.
Projected Starting 5
Rockets
Chris Paul/James Harden/Trevor Ariza/P.J. Tucker/Clint Capela
Timberwolves
Jeff Teague/Jimmy Butler/Andrew Wiggins/Taj Gibson/Karl-Anthony Towns
Keys to Victory for Houston
In order for the Rockets to win, they'll have to be focused. Minnesota is no one to mess with, they are pretty good.
When fully healthy, the Timberwolves were a top-5 team in the West. They dropped down to 8 by the end of it, partially due to the injury of Jimmy Butler.
Clint Capela will need to have a strong series for the Rockets. Last year, he seemed to falter a bit against Steven Adams of the Thunder. If he plays like that vs. KAT, that could be pretty bad.
Getting some of the starters for Minnesota in foul trouble is a big key for Houston. The bench of the T-Wolves is not particularly strong, so having them play as many minutes as possible would be great.
Be sure to put your predictions below on this tweet!
ALRIGHT: Make your official prediction for this #Rockets-Timberwolves series down below!
???
— Space City Scoop (@SpaceCity_Scoop) April 15, 2018