Rockets News
The Rockets take a 3-1 lead on the Timberwolves after a Game 4 win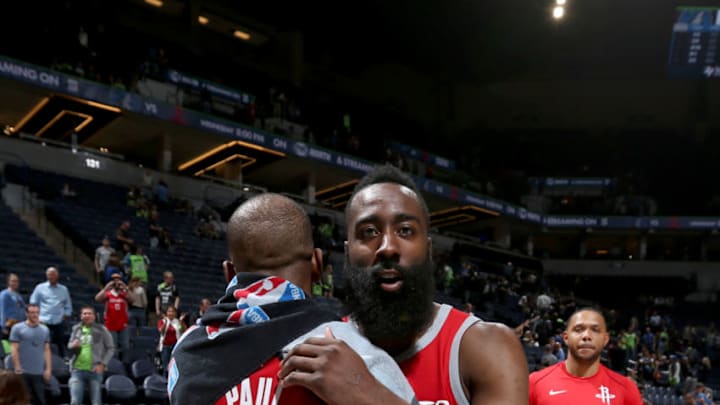 MINNEAPOLIS, MN - APRIL 23: James Harden
The Rockets had a historical third quarter and beat the Timberwolves 119-100.
The Houston Rockets are now up 3-1 in their first-round series against the Minnesota Timberwolves. They took care of business on the road, splitting the two games in Minny.
The Rockets now have a chance to finish up the series at home on Wednesday night. That game will be on TNT at 8:30 p.m.
The third quarter was absolutely insane. The Rockets outscored the Timberwolves 50-20. You read that right. 50-20. Everything was clicking and barely missed in the quarter.
It was a historical quarter, too:
The Rockets' 50 3rd-quarter points are the 2nd-most in a quarter in NBA postseason history, behind the Lakers' 51 in 1962 against the Detroit Pistons.
In the 3rd quarter, Houston shot 61% overall and 69% on 3-pointers. pic.twitter.com/uefyyzJOwg
— ESPN Stats & Info (@ESPNStatsInfo) April 24, 2018
With that said, let's get onto the stats:
The Stats
James Harden: 36 points, 4 rebounds, 3 assists, 4 steals, 1 block, 1 turnover
Chris Paul: 25 points, 6 rebounds, 6 assists, 5 steals, 1 turnover
Eric Gordon: 18 points, 4/10 from 3
Clint Capela: 14 points, 17 rebounds, 4 blocks
How the Rockets won
The Rockets stuck around in the first half and were up by one at the end of it. They then put the game out of reach in the third.
The big 4 came to play, especially Harden and Paul. Those two combined for 37 of the 50 points in the third quarter.
James Harden had a horrendous start to the game. He began just 0-7 from the field for 2 points in the first quarter. But then…
The Beard just needed to get warmed up ? pic.twitter.com/4EHiLC15uH
— ESPN (@espn) April 24, 2018
He definitely warmed up and dropped 36 points along the way. He is now averaging 30 points a game in this series.
The Rockets really took control of the game against the starters of the Timberwolves. They were able to force each of them into a negative plus-minus, with the worst being Andrew Wiggins at -30.
The 3-point shooting the Timberwolves showed last game was definitely unsustainable. After shooting over 50% in Game 3, they shot just 8/22 tonight for 36.4%.
Gerald Green had an off night for Houston. He had just 2 points and only took 3 shots. I would love to see him be a little more aggressive on Wednesday night.
The Rockets will look to close out the series next game! Let's go Houston!