Rockets News
Rockets: What the rotation could look like in Round 2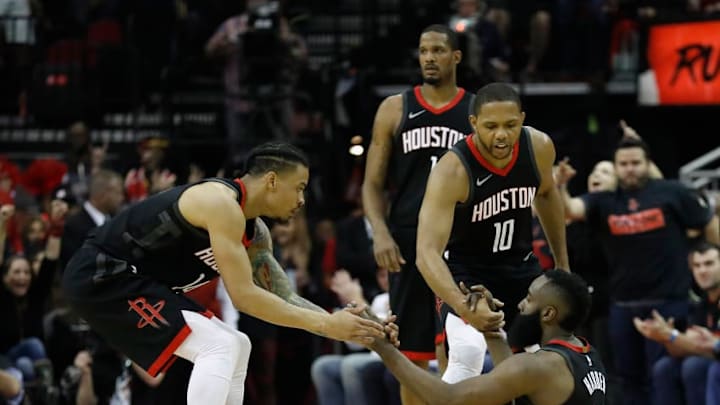 HOUSTON, TX - APRIL 15: Eric Gordon
The Rockets will begin the second round soon. What could the rotation look like for the team?
The Houston Rockets made pretty quick work of the Minnesota Timberwolves in the first round, winning the series 4-1. This series win was expected as Houston was the No. 1 overall seed entering the playoffs.
Now, as we shift our focus to the second round, we will look over the rotation a bit. In the first round, we saw some players gain minutes and some lose minutes over the course of the five games.
The Rockets will be getting back a valuable player, hopefully, in Luc Mbah a Moute. He will need to fit back into a rotation that won their four games over Minnesota by an average of about 13 points.
How could it look? Let's look at some players that may lose minutes and then examine the rotation as a whole.
Unfortunately, we may see Gerald Green's minutes diminish almost completely in the second round. While his shooting is incredible and he absolutely brings energy to the court, his defense against Minnesota was not great.
Should the offense be struggling in a game, it is certainly possible that we see Green take the court. However, he even had just 8 minutes in the closeout win over the Wolves on Wednesday. With Luc coming back, most or all of Green's minutes will go to him.
Ryno will either see his role change or see him lose minutes. He played the backup power forward and occasionally backup center positions in the first round, but we may see him completely become the backup center.
Luc plays the backup power forward and plays it well, so Ryno would see his minutes change if Coach D'Antoni wants him there. Nene, though, had an average to below average first round, so Ryno could take some of his minutes. Nene wasn't bad, but having a stretch center off the bench could be huge against the defense of Utah or Oklahoma City.
Rotation for the Rockets
The overall rotation could look something like this:
Starters: Chris Paul (35 min)/James Harden (37 min)/Trevor Ariza (37 min)/P.J. Tucker (33 min)/Clint Capela (30 min)
Coming off the bench: Eric Gordon (30 min)/Luc Mbah a Moute (25 min)/Ryan Anderson (20 min)/Nene (15 min)/Gerald Green (<10 min)