Rockets News
Trevor Ariza's defense on Donovan Mitchell will be key to the whole series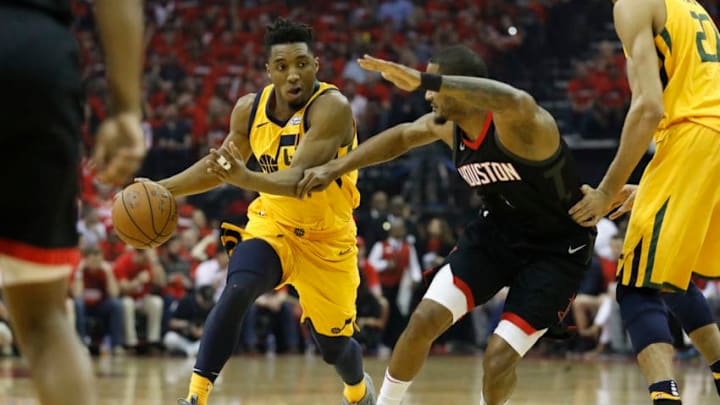 Photo by Tim Warner/Getty Images
If Trevor Ariza can contain Donovan Mitchell for the rest of the series like he did in Game 1, the Houston Rockets might sweep the Utah Jazz.
James Harden and Chris Paul will get most of the headlines for the Houston Rockets, and deservedly so. But Trevor Ariza's defense on Donovan Mitchell deserves some of the limelight too.
Mitchell averaged 28.5 points on 46.2 percent shooting in Utah's series with the Thunder. He even dropped 38 points in a closeout Game 6 in Salt Lake City.
Donovan Mitchell has had one heck of a rookie season. It has become quite obvious that Donovan Mitchell will develop into a superstar, as he has already taken on the role of Utah's leading scorer.
With Ricky Rubio out for at least 10 days due to a hamstring strain, Mitchell will carry even more of Utah's offense. That means he'll be an even bigger focal point for Houston's defense, which is exactly what we saw in Game 1.
Houston threw a few different defenders at Mitchell throughout the game. James Harden defended Mitchell, as did Eric Gordon and Luc Mbah a Moute. But Trevor Ariza spent the most time covering Mitchell and he really set the tone in the opening quarter.
By halftime, Mitchell had just 9 points on 3-of-9 shooting for the floor. He played a little better in the second half, finishing the game with 21 points and 5 assists. Although, the 21-year-old shot just 9-for-22 from the field and 1-for-7 from the 3-point line and committed 4 turnovers.
Donovan Mitchell gave Ariza a lot of credit for slowing him down in Game 1, via the Houston Chronicle's Hunter Atkins.
"He'd deny me the ball if I gave it up. He's taller than me. He's longer than me."
"Being able to find ways to attack him and understand he's a good defender, you gotta respect that. It's not going to be easy going against him."
Donovan Mitchell is going to jack up a lot of shots in this series, because it's the only way that Utah will have a chance to steal a game. The Rockets might not be able to prevent him from averaging over 25 points a night like he did in the first round.
Next: The dominance of Chris Paul, James Harden, Clint Capela
However, if Houston can limit Mitchell to around 40 percent shooting like they did in Game 1, the Rockets will be in great shape going forward.