Rockets News
Clint Capela says that the Rockets are better than the Warriors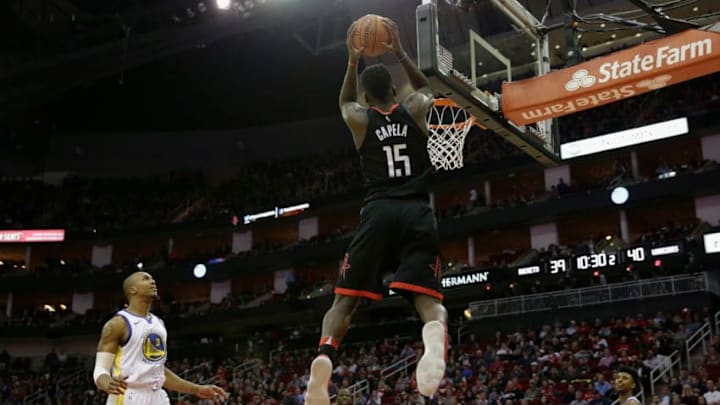 Photo by Tim Warner/Getty Images
Clint Capela said that the Houston Rockets were better that the Golden State Warriors back in January and he isn't backing down from his original claim.
The Houston Rockets are a completely different team than they were a year ago. Houston now has two future Hall-of-Famers instead of one. They're much better in almost every category defensively. They won the most games in the NBA this year. And of course, they made more 3-pointers than any team in NBA history, again.
Before the season started, there were a lot of teams that were dubbed as potential Warriors killers. The Oklahoma City Thunder came into the season with a lot of hype, but their terrible offensive system and lack of depth got them eliminated in the first round. The Boston Celtics are another talented team, but they can't defeat Golden State or Houston with Kyrie Irving and Gordon Hayward sitting on the sidelines.
The Houston Rockets are easily the best equipped team in the NBA to defeat the Warriors, and Clint Capela likes his team's chances. Capela told ESPN's Stefano Fusaro that the Rockets are capable of winning a NBA championship.
"I believe we have a team capable of winning a championship. So if I think that we can win a championship, then yes, I think we are better."
Recent history would back up Capela's claim. The Rockets won the season series 2-1 with Golden State. James Harden was out with an injury in Houston's loss to the Warriors on Jan. 4, but so was Kevin Durant for Golden State.
Next: Houston Rockets: 3 keys to winning the Western Conference Finals
The Rockets will be underdogs in this series. The Warriors have won two of the last three championships and were a couple of plays away from a three-peat. In order to be the best, you first have to beat the best. That's exactly what Clint Capela and his Houston Rockets will attempt to do starting in Game 1 on Monday night.