Houston Rockets fans are going to love these new shirts from BreakingT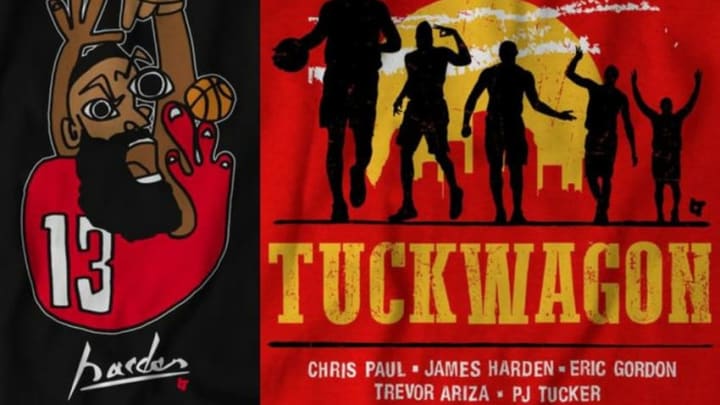 Houston Rockets fans are going to love these two stylish new t-shirts from BreakingT. Check out their newest designs.
The Houston Rockets found a way to out-smallball the Golden State Warriors. That's no easy feat, but H-Town did it.
How?
A mix of James Harden and PJ Tucker. Just like we all imagined back in October.
Harden, "basketball's Picasso," according to Trevor Ariza, has been red hot. And Tucker has been playing center in a smallball lineup that BreakingT likes to call the Tuckwagon.
Onto the merch!
James Harden 'Basketball Picasso' T-Shirt
BreakingT
"James Harden is like basketball's Picasso. He's an artist whose work you respect, even if you don't always understand its significance until later." – Trevor Ariza. 
Featuring brown, red and white graphics on a vintage black shirt, this officially licensed product of the National Basketball Players Association is only available at BreakingT. Retails for just $26 and is made from a premium cotton-polyester blend.
Look, there's cool and then there's James-Harden-as-a-Picasso-painting cool. This unique shirt will let everyone know who you're rooting for. Order your "Basketball's Picasso" t-shirt now.
Houston Rockets Tuckwagon T-Shirt
BreakingT
PJ Tucker says Houston's small-ball lineup is simply the "best in the league."
This vintage red shirt features yellow, black and white graphics, depicting the Rockets' going small. Yet again, the shirt is made from a premium, lightweight cotton-polyester blend.
It retails for $26 – but BreakingT currently is running a free shipping promotion on orders of $40 or more.
So, you pick up both of these awesome Rockets shirts and don't pay a dime for shipping. That's a win-win if I've ever seen one.
And trust me, BreakingT shirts are awesome. They fit perfectly, they look great and they're super comfortable. There's no reason not to love a BreakingT shirt.
So don't wait, order yours now.