Houston Rockets: Why the team should sign Jonathon Simmons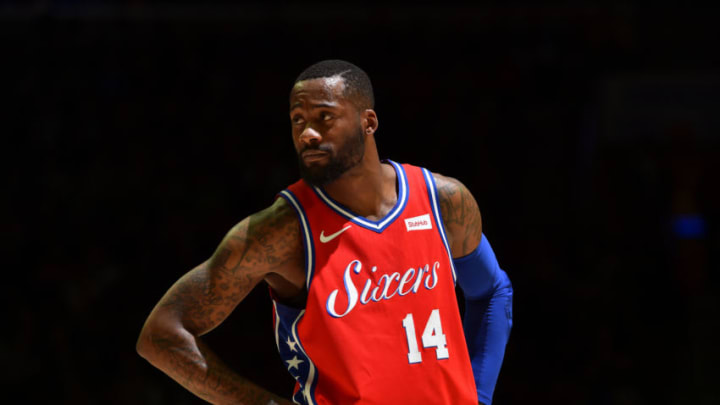 Jonathon Simmons #14 of the Philadelphia 76ers looks on against the Boston Celtics (Photo by Jesse D. Garrabrant/NBAE via Getty Images) /
The Rockets are surely running out of options as it pertains to quality players to add to the roster. Here's why they should pursue the local kid, Jonathon Simmons.
The free agent market has dried up, which for the Rockets isn't the best news as they haven't added anyone new to the team this summer. Sure, they've swung big on Jimmy Butler and are swinging big on Russell Westbrook, but they've essentially missed out on many of their free agent targets.
However, there has been another name added to the market who is from the Bayou City himself: Jonathon Simmons. Simmons was traded to the Philadelphia Sixers at the trade deadline and was recently traded again to the Wizards, who subsequently waived him.
On the floor, it's easy to justify why the Rockets should want him, as he put up good numbers for Philadelphia. He averaged 13.6 points and 5.4 assists per 36 minutes, en route to shooting 42.9% from three and 45.8% from the field. He only played 14.6 minutes per night for the Sixers, but he could very well play 24 minutes per night for the Rockets based on how thin they are. His three point percentage would have also been the best on the Rockets last season. The Rockets also could easily use his facilitating skills, as his 5.4 assists per 36 minutes showcase his playmaking abilities.
The true question is whether Simmons would sign for the minimum. Would the lure of playing for his hometown get him to sign for cheap, a la Gerald Green? I would think so, as it doesn't seem like he has many suitors. If he had several options, he would have already been signed by now. Or we would have surely heard about teams being interested in his services, right?
Simmons is a 6'6 forward who can pass and shoot the three at a good clip. In addition, I feel like Simmons will come out with a vengeance and want to prove he can still ball, which would be even better for the Rockets, at least for this season.
Simmons is someone the Rockets should be chomping at the bits to add to the roster. Here's to hoping they do, as Simmons would provide great value.