Houston Rockets: Why the Westbrook trade could bring a significant change in the offense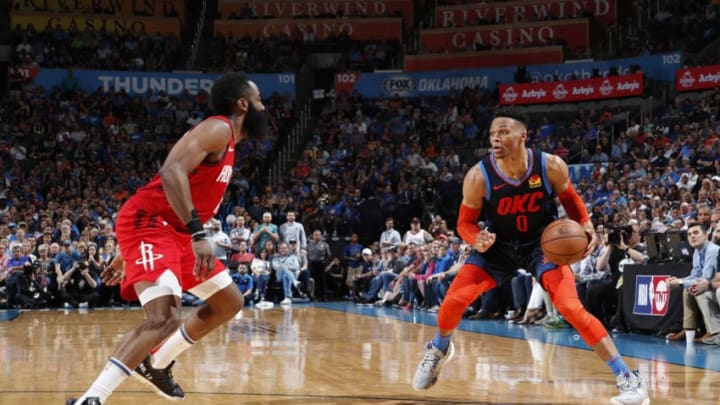 Russell Westbrook #0 of the Oklahoma City Thunder handles the ball during the game against James Harden #13 of the Houston Rockets (Photo by Jeff Haynes/NBAE via Getty Images) /
The Houston Rockets awoke from their offseason slumber with a tremendous roar on Thursday evening as they agreed to send Chris Paul, two future first-round picks, and pick-swaps in 2021 and 2025 to the Oklahoma City Thunder in exchange for the 2017 league-MVP, Russell Westbrook.
The Rockets had been very quiet for the beginning of free agency as their biggest moves were re-signing three rotational players from the 2018-19 season in Austin Rivers, Danuel House Jr. and Gerald Green.
The lack of moves caused many Rockets' fans to grow anxious as every contending team in the Western Conference made deals that significantly improved their roster.
With the acquisition of Russell Westbrook, the Rockets now have an explosive backcourt that has two players who not only have had tremendous success playing individually, but they also have experience playing together.
James Harden and Westbrook played together in Oklahoma City from 2009 to 2012 and were both a part of the USA Men's National Basketball team that won a Gold Medal in the 2012 Olympics.
With Westbrook now on the Rockets, Houston will have to adjust their offense as Westbrook and Chris Paul have different playing styles and different strengths and weaknesses.
Next: How Houston's offense changes