Houston Rockets: Why the Westbrook trade could bring a significant change in the offense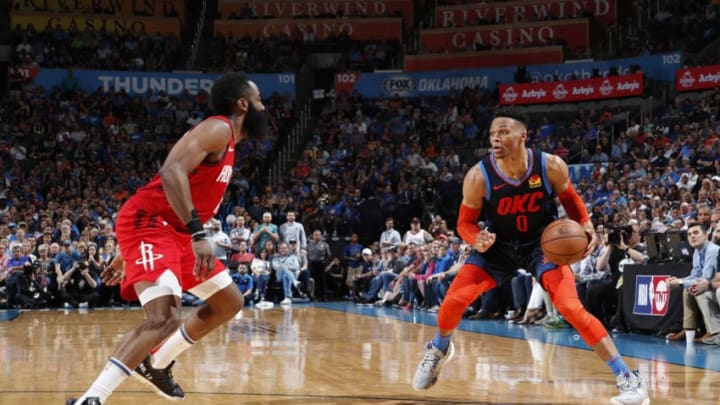 Russell Westbrook #0 of the Oklahoma City Thunder handles the ball during the game against James Harden #13 of the Houston Rockets (Photo by Jeff Haynes/NBAE via Getty Images) /
Russell Westbrook #0 of the Oklahoma City Thunder shoots the ball against the Portland Trail Blazers (Photo by Cameron Browne/NBAE via Getty Images) /
Style
For much of the 2018-19 season, multiple NBA analysts and fans criticized the Rockets for their isolation-heavy playing style.
Since "CP3" joined the Rockets, Paul and Harden would take turns running the point. In the 2018-19 season, the Rockets saw very little ball movement off the ball as most of their points were created by Harden off the dribble, which in part was due to injuries.
With Westbrook on the team, Houston will have to adjust its style as one of Westbrook's weaknesses is shooting the three at an efficient clip. Westbrook shot only 29% from the three-point line last season and for his career is only a 30.8% three-point shooter.
It would not be effective for the Rockets' offense to have Westbrook play off the ball waiting for a catch and shoot for three when he is at his best with the ball in his hands and attacking the basket.
Westbrook's biggest strength is his athleticism. One way for the Rockets to get the most out of this skillset would be to run weak-side cuts while Harden and Capela run a pick and roll from the top of the key which opens up more opportunities for easy baskets which Houston struggled to get during the playoffs in 2019.
With more movement off the ball, the opportunities for lobs to Westbrook and Capela are available but it will also create open outside looks for Eric Gordon and P.J. Tucker.
Westbrook will also add a more up-tempo style to the Rockets. Last season, Houston was 27th in pace in the NBA while Oklahoma City was 6th. "The Brodie" loves to get out in transition and push the ball on the fastbreak. When he is running downhill, he is one of the most unguardable players in the league.
Next: An Unexpected win for Houston