Houston Rockets: Why the Westbrook trade could bring a significant change in the offense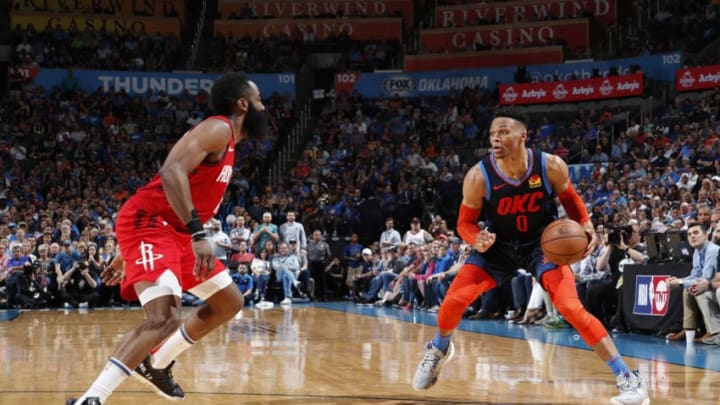 Russell Westbrook #0 of the Oklahoma City Thunder handles the ball during the game against James Harden #13 of the Houston Rockets (Photo by Jeff Haynes/NBAE via Getty Images) /
PJ Tucker #17 of the Houston Rockets looks at the scoreboard during a timeout in the first half against the Phoenix Suns at Toyota Center (Photo by Tim Warner/Getty Images) /
Keeping the Core Together
The biggest win for the Rockets in this trade was that they got to keep Eric Gordon, Clint Capela and P.J. Tucker, who were expected to be included in any scenario that saw Westbrook landing in Houston, and who were rumored to be involved in a trade if Jimmy Butler chose the Rockets.
By keeping those three key players, Houston keeps their strong rotation around the two elite guards, and now the Rockets are in a strong position to trade for another high-level role player if they can re-sign Iman Shumpert to a one year deal.
By re-signing Shumpert, the Rockets can go over the remaining mid-level exception because they have his bird rights, and Houston could trade him in a package filled with picks to land a player that a non-contending team may be looking to move as the season is underway.
With a strong roster, Houston may also gain the attraction from players bought out in the regular season as Austin Rivers did in December of 2018.