Houston Rockets: Capela's Generosity Shows How it's Bigger Than Basketball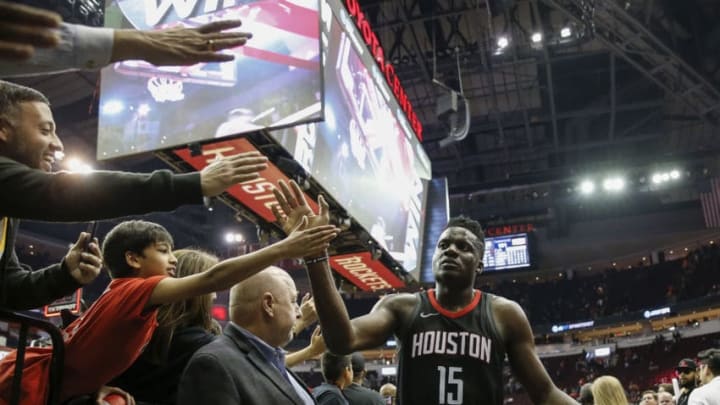 Clint Capela #15 of the Houston Rockets (Photo by Tim Warner/Getty Images) /
Rockets stars James Harden and Russell Westbrook have each made significant contributions off the court. Here's how Clint Capela followed suit!
The Rockets have recently shown how much more important life is than just basketball, as James Harden and Russell Westbrook have each given back to the community in different ways.
Westbrook opened up the Westbrook Brownstein Green Tech program, and Harden donated 10K to a struggling family in the Bahamas. Not only that, Harden also donated 240K to rebuild Houston basketball courts affected by Hurricane Harvey.
Center Clint Capela followed suit, courtesy of KHOU's Matt Musil.
#KHOU11 Great to see #Rockets center @CapelaClint helping out 30 kids from #BigBrothersBigSisters get ready for school. They're getting a shopping spree at #Walmart thanks to Clint. pic.twitter.com/3AdMseaX4d
— Matt Musil (@KHOUSportsMatt) August 24, 2019
Capela partnered with Big Brothers Big Sisters, which is a non-profit organization that provides youth mentoring programs to children and families. Capela treated 30 kids each to a 300 dollar gift card from Walmart, in addition to providing them with other needed items. Not only that, Capela took each kid shopping afterwards to buy school supplies and clothing. All in all, the center spent at least 9,000 dollars on the gift cards alone, but obviously spent more than that on the other items he purchased for the families.
This was a very classy move, especially considering that the Houston fan base allegedly vandalized Capela's Range Rover during the Rockets season ending playoff loss to the Golden State Warriors. It speaks to Capela's character that he's chosen to invest in this same Houston community that damaged his car.
This donation comes shortly after Capela gave 2,000 dollars to each of his teammates on team Switzerland, after leading them to a historic 109-85 victory over Iceland.
https://twitter.com/overtime/status/1164311032107606016
This game was a big victory because Switzerland needed to win by at least 20 points in order to advance to the 2021 Eurobasket qualifying round. This Iceland team actually beat them when the two teams played on August 10th.
It was a very generous deed to give 2,000 to each of his 11 teammates and a very classy move by the Rockets' center. All in all, Capela spent 22,000 on the donations to his teammates.
Kudos to Capela for giving back to the community and having a positive impact on the lives of his teammates overseas!