Rockets News
Houston Rockets: Player grades from crushing loss to San Antonio Spurs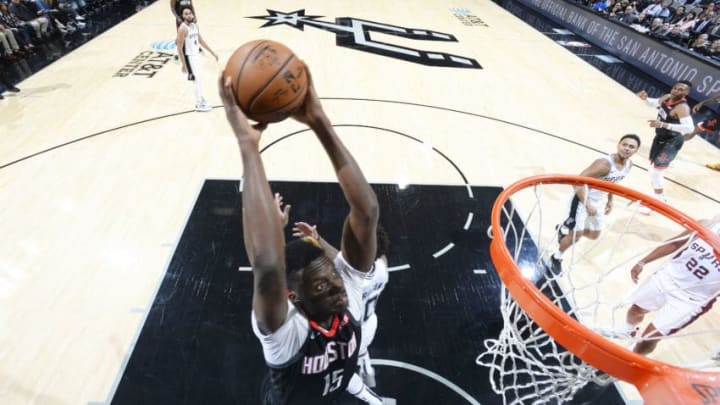 Houston Rockets Clint Capela (Photos by Logan Riely/NBAE via Getty Images)
Houston Rockets Clint Capela (Photos by Logan Riely/NBAE via Getty Images)
The Houston Rockets suffered a heartbreaking loss in Tuesday night's matchup against the San Antonio Spurs. Here's how each player fared in the Rockets' defeat.
The Houston Rockets traveled to San Antonio for a crushing loss against the underwhelming San Antonio Spurs. Although the Spurs didn't have Rockets-killer LaMarcus Aldridge, the Rockets still fell in double-overtime to a Spurs team that was 7-14 heading into the game.
Considering how San Antonio has performed so far, it was assumed that this game would have gone very similar to the previous game against the Atlanta Hawks in which the Rockets won 158-111. One thing that was similar about this game and the Hawks game was the fact that the Rockets were again without sharpshooter Danuel House.
In spite of that, the Rockets were winning 97-81 entering the fourth quarter until they had an epic collapse in which they were outscored 34-18 in the final period, forcing the game into overtime.
Besides a breakout game from Lonnie Walker, the Spurs certainly had other help along the way, as the officials wrongly determined that a clear James Harden dunk did not count in the fourth quarter. The play in question is below courtesy of KPRC's Adam Wexler.
Refs say no score. Even after a timeout and Rockets pleading, still no #Bucket. #Rockets #Spurs #Oops @NBA pic.twitter.com/RNZSukl1jp
— Adam Wexler (@KPRC2AdamW) December 4, 2019
Afterward, the NBA's crew chief James Capers unsurprisingly admitted the dunk should have counted, as tweeted out by the NBA Official's Twitter page.
At the end of the day, the Rockets were going to have a hard time winning this game considering the fact that James Harden and Russell Westbrook combined for 18-of-68 from the field.
Let's take a look at the player grades from the devastating loss, beginning with the starters.
Next: The Rockets' starters