3 reasons why the Rockets lost the Russell Westbrook trade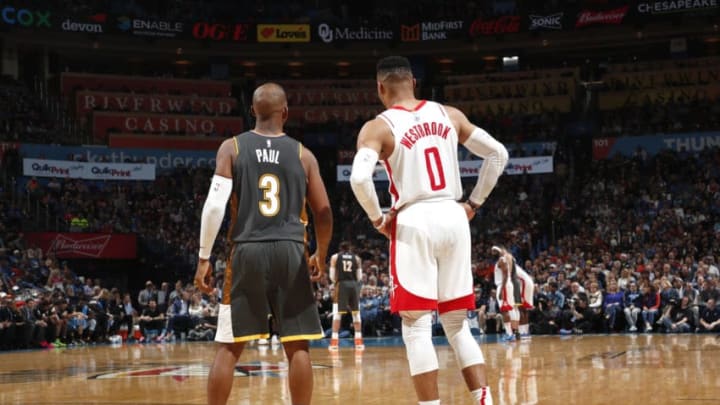 Chris Paul Russell Westbrook(Photo by Jeff Haynes/NBAE via Getty Images) /
Chris Paul #3 of the Oklahoma City Thunder (Photo by Mike Ehrmann/Getty Images) /
3. Chris Paul was more dependable in 2019-20
One of the primary ideas behind the trade was that the Rockets were getting a player with a higher ceiling and who was more durable. After all, Westbrook was an MVP as recently as 2017, having averaged a triple-double in three straight seasons.
This was not an unreasonable perspective, as Chris Paul appeared to be showing signs of decline at the time, and his age was a reasonable culprit to point to. Add on reports of tension between James Harden and Paul, and the Rockets found themselves in a strange position.
Paul also saw many injuries throughout his time in Houston, causing much frustration for the organization and its fans. It was imagined that Russell Westbrook would be able to play more games than CP3, which would help Houston in the regular season and would give the team a better sense of security for the postseason.
Unfortunately for Houston, the situation was misjudged considerably, as evidenced by the 2019-20 season. Not only was Westbrook coming off of surgery to start the season, load-managed on back-to-backs, and missed several playoff games, but Paul had quite the bounce-back season in OKC.
In bitterly poetic fashion, the two teams finished with the same record and even saw each other in the playoffs, where the Rockets defeated the Thunder in seven games by the skin of their teeth. This is despite OKC being predicted to miss the playoffs and the Rockets being considered a title-contender by many.
Chris Paul looked like his 2017-18 self for the majority of the 2019-20 season, including in the playoffs against the Rockets. Meanwhile, Westbrook had a shaky start to the regular season but showed a lot of promise by the end, only to have a disastrous playoff performance.
Despite giving many fans a reason to believe he would look different in the postseason in Rockets Red, Westbrook devolved into ugly habits that played a large role in Houston's meek performance against the Lakers in the second round. While some of this could be chalked up to injury and a COVID-19 recovery, the end result is the same nevertheless.
At times, Harden and Russ appeared to have a good deal of chemistry and the Brodie looked like a decent fit on the Rockets. However, it is a difficult stance to hold that the fit ever looked as natural as it did with CP3.
While the argument could be made that Westbrook had a superior regular season statistically as compared to Paul, Paul had the much better playoff performance. On the court player-to-player, Westbrook was not as good for the Rockets as Paul would have been this season.
Next: No. 2