Houston Rockets: 2021 NBA Draft report card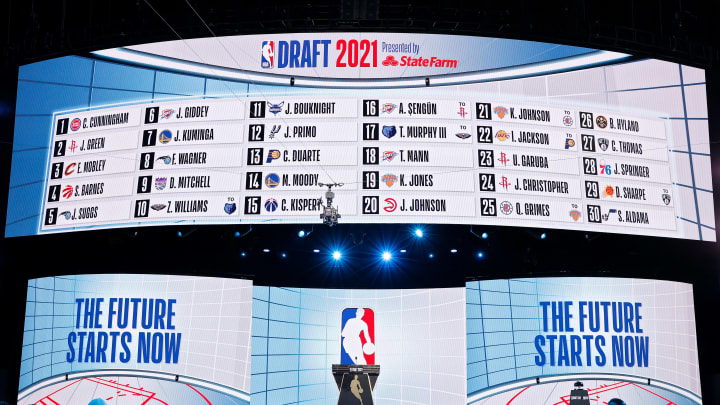 2021 NBA Draft / Arturo Holmes/Getty Images
2021 NBA Draft / Arturo Holmes/Getty Images
The Houston Rockets entered the 2021 NBA Draft with three first-round picks and finished the night having nabbed four prospects in the first round. The Rockets went from one of the oldest teams in the league to one of the youngest, and now feature an upcoming core of players under the age of 25. 
The Houston Rockets youth movement starts with the 2021 NBA Draft
Of the players currently on the roster, only John Wall, Eric Gordon, and D.J. Augustin are over the age of 30, and will likely depart through free agency or trade over the next two seasons. On the other end of the age spectrum, the Rockets' young core of Kevin Porter Jr, Jae'Sean Tate, Kenyon Martin Jr, and Christian Wood are all 25 and younger and will be joined by some fresh faces.
Jalen Green, Alperun Sengun, Usman Garuba, and Josh Christopher are the Rockets 2021 NBA Draft class. The quartet brings different qualities to the court and can realistically share the court together from day one. Obviously, the veterans will have something to say about that, but in a few years, the Rockets 2021 Draft class, could be the Rockets starting lineup. 
The Rockets, armed with the 2nd, 23rd, 24th, and, through trade, the 16th pick in the 2021 NBA Draft, not only got younger, they added a cast of exciting prospects. No team added more first-round talent, but how did the Rockets do? 
The Houston Rockets 2021 NBA Draft report card rubric
To determine the grade of each selection three factors were taken into consideration; overall ability, fit, and draft spot relative to expected draft spot. Obviously, their ability is the most important factor, followed by fit, but draft position relative to expectations is sneakily important. If a player drafted third could have been had at seven then the team lost a chance to get the prospect they want and add more through a trade back. With that being said, this is the Houston Rockets 2021 NBA Draft report card.